Testingfg of Ads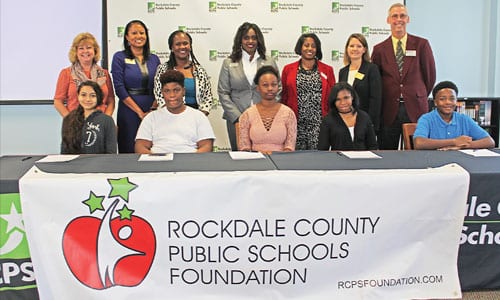 The Rockdale County Public Schools Foundation will take up the mantle of fundraising for future cohorts of REACH Scholars.Left to right: Back row – RCPS Foundation Board member Susan Paul Smith, RCPS Interim Superintendent Shirley Chesser, RCPS Foundation Exec. Director Kysa Daniels, REACH GA Exec. Director Keisha Hull, RCPS Foundation Board member J. Middlebrooks, RCPS Director of Student and Community Support Services April Fallon, Rockdale County Board of Education Chairman Jim McBrayer. Front row – Angela Ruvalcaba of Conyers Middle, Dyson Lewis of Conyers Middle, Alayna Crutchfield of Edwards Middle, Shariden Beazer of Conyers Middle, Tae'Jon Bailey of Gen. Ray Davis Middle.
Five Rockdale County Public Schools (RCPS) eighth grade students have been named the district's first ever REACH scholars. Each student will receive a $10,000 scholarship upon completion of the REACH program and high school graduation.
The mission of REACH, which stands for "Realizing Educational Achievement Can Happen," is to ensure that Georgia's academically promising students have the academic, social, and financial support needed to graduate from high school and college ready for a successful career.
The REACH scholars are: Angela Ruvalcaba, Dyson Lewis, and Shariden Beazer Conyers Middle School; Alayna Crutchfield of Edwards Middle School; Tae'Jon Bailey of Gen. Ray Davis Middle School.
"I am just so thrilled that our students have this opportunity," said April Fallon, RCPS Director of Community and Student Support and RCPS REACH Coordinator. "Just thinking about this journey is incredible. REACH is a strategic investment in our students and our state, opening doors for youth who may not have the opportunity to seek post-secondary education due to financial constraints."
Beginning in the eighth grade and continuing through high school, REACH Scholars are paired with a mentor and an academic coach. Scholars must maintain good grades, behavior and attendance. Scholars who successfully complete the program and graduate from high school are awarded a $10,000 scholarship that can be used at any university or college in the University System of Georgia, Technical College System of Georgia, or eligible private postsecondary institution. The scholarship is in addition to any other grant or scholarship the student receives.
"REACH Georgia is a game-changer for so many bright and focused students, including those right here in Rockdale, who desire a post-secondary education, but may lack the funds to attend college," said Kysa Daniels, RCPS Foundation Executive Director. "The RCPS Foundation is pleased to serve as the fundraising lead for our district's REACH Georgia academic development and scholarship program. We are hopeful that REACH will serve as a catalyst to engage even more of our community and business partners that want to ensure success for Rockdale students."
The students in this first RCPS cohort of REACH Scholars were selected based on grades, behavior, recommendations and rounds of interviews. Each scholar and their parent signed letters of commitment to the five-year program during a ceremony held at Rockdale Career Academy in October. Rockdale County Board of Education Chairman Jim McBrayer presented a commendation from Gov. Nathan Deal on the launch of the REACH program in RCPS. The middle and high school principals, counselors and academic coaches from each student's current and future schools, along with family members, Rockdale County Board of Education leaders, REACH program leaders, attended the signing ceremony in a show of support.
REACH is a key component of Governor Deal's Complete College Georgia, which identifies strategies for the state's public and private college.