Testingfg of Ads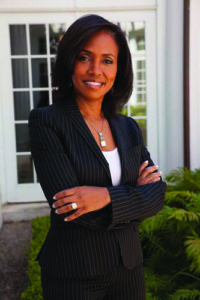 Suzanne Shank, chairwoman, CEO and co-founder of Siebert Brandford Shank & Co., L.L.C., one of the nation's top municipal bond underwriting firms, will be the 2016 spring commencement speaker at Georgia Piedmont Technical College.
The ceremony, scheduled for Saturday, May 21, 10 a.m., will be held at the Georgia World Congress Center, 285 Andrew Young International Boulevard, NW, Atlanta. . The ceremony will be conducted in the Georgia Ballroom.
Shank is the first African-American female to lead a publicly-traded financial institution, and is in high demand as a financial expert who is well-respected on Wall Street.  As a founding partner of Siebert Brandford Shank & Co., L.L.C., this native Georgian has watched the firm grow from a start-up organization to a major powerhouse.  Her firm has completed over $2 trillion in municipal, corporate bond and equity transactions.  Shank's reputation as an industry leader has led to broadcast interviews on CNBC, Bloomberg TV and Wall Street Week.
"We are delighted to have Suzanne Shank as this year's commencement speaker," said GPTC President Jabari Simama. "She brings a wealth of knowledge and experience that will be inspirational to our students and guests.  Ms. Shank is a trailblazer who is committed to giving back to the community, with a focus on students in particular," he said. "We are pleased she has accepted Georgia Piedmont's invitation to share her insights with our graduates."
"I am honored to have been invited to serve as Georgia Piedmont Technical College's 2016 Commencement Speaker," said Shank. "I am impressed with the high standards and the quality of education the students receive at this institution.  This student-centered college is preparing its graduates to succeed in a global economy.  I commend the students, faculty and staff of Georgia Piedmont, and I look forward to joining them for this momentous occasion."
As an advocate for education, Shank serves on the advisory board to the President at the Georgia Institute of Technology, as well as the Graduate Board of Trustees for The Wharton School at the University of Pennsylvania.  Shank holds a bachelor's degree from Georgia Tech and an MBA from The Wharton School.
Doors open at 9 a.m. for the commencement program. The event is open to the public.