Testingfg of Ads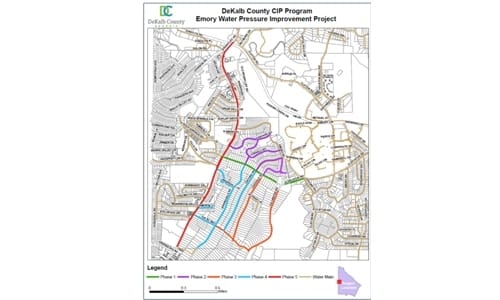 DECATUR–The DeKalb County Department of Watershed Management (DWM) is currently completing the Briarcliff Corridor Water Initiative project to replace 44,500 linear feet of aging water pipe. This $20 million project is part of the county's $1.345 billion capital improvement program to improve the water and sewer infrastructure.
On Monday, Sept. 14, authorized contractors will begin connecting customers to the newly installed water lines. There will be a brief water interruption of one hour or less as crews work to replace and connect new water meters. Streets impacted include Lullwater Road, Emory University, Emory Road and Briarpark Court.
Additional work on the Briarcliff project included installation of new, larger water pipes, as well as new hydrants, valves, meters and service connections.  These improvements will increase water pressure and service delivery for the Briarcliff corridor. These projects are designed to reduce water main breaks and increase fire service capacity.
For more information, visit the DWM website's project