Testingfg of Ads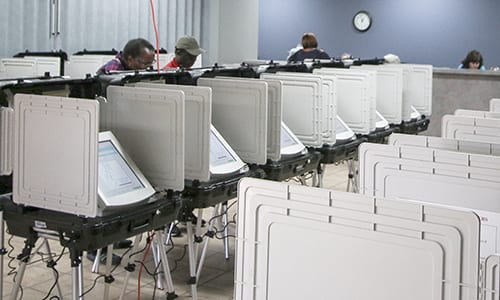 By Valerie J. Morgan 
A federal judge has ruled that Georgia voters will not use paper ballots during the November election, despite objections from voting rights groups and activists who are concerned the state's electronic voting system could be hacked.
 U.S. District Judge Amy Totenberg said on Monday that switching to a paper ballot verification system just weeks before the election would be chaotic.
In her 46-page ruling Totenberg agreed that Georgia is vulnerable to hackers, saying state election officials "had buried their heads in the sand" on the issue. However, Totenberg said changing the system now with such short notice would create  "bureaucratic confusion and long lines." 
The Coalition for Good Governance, Georgians for Verified Voting and other activists had asked for an injunction that would have forced Georgia's 6.8 million voters to switch to voting machines that provide a verifiable paper backup. Plaintiffs in the lawsuit said Georgia's touchscreens are not secure and results could be changed by outsiders or malware without leaving a trace. 
State Rep. Billy Mitchell, District 88, said  Totenberg made the right decision, adding that the governor's race, in particular, is too important for voters to be dissuaded by long lines due to a new voting system. Democrat Stacey Abrams and Republican Brian Kemp, who is Secretary of State and oversees the elections administration, are competing in the hotly contested race.       
"At this point, a new system would disturb the process. The lines would be tremendously long. We don't want to do anything to discourage people from voting. If people want to use paper ballots right now, they can turn in an absentee ballot," said Mitchell. "We just don't have enough time to change the voting system."    
Absentee mail-in voting began Sept. 18 and in-person early voting begins on Oct. 15 for the Nov. 6 election. 
Georgia is one of five states that still rely on electronic voting with no paper backup. Paper ballots are used in most voting systems in the U.S., state lawmakers and others say.
Many of Georgia's elected officials want to switch voting systems but say they want to wait until the 2020 elections to make the change. Waiting will give state lawmakers a chance to determine how to fund a paper backup system. 
"It needs to be a fail-safe system that has a touchscreen and a paper ballot that voters can look at to catch any errors that may have been made," said Mitchell, pointing to Rockdale County's successful pilot to test paper ballots in the 2017 city of Conyers municipal elections.
Rockdale Elections Supervisor Cynthia Welch said switching to paper ballots for the November elections would have cost her county about $340,000 for new machines, ballots and training.
"We would need to make provisions and have additional equipment for the blind, disabled and others who cannot read to cast their votes," said Welch. "We wouldn't have had enough time to do that for this election."
Congressman Hank Johnson, who represents the Fourth District, said a switch now "would have resulted in a massive scramble" and jeopardized the elections. But he  said that he has long been concerned about the security of Georgia's voting system, citing the fact that Kennesaw State University's Center of Elections Systems computer server holding state election data was wiped clean in 2017 following an investigation by the FBI. KSU holds the state contract to maintain the statewide electronic voting system.
"We still don't know what was on the server," said Johnson, who said he has been working to introduce legislation for two years that would require paper ballots for federal elections.