Testingfg of Ads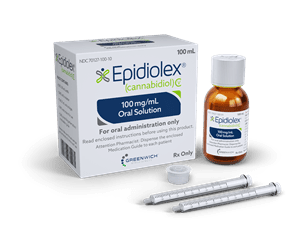 First FDA-approved drug made from cannabis now available in US
The first cannabis-derived medication to be approved by the US Food and Drug Administration is officially available in all 50 states via physician prescription. Epidiolex, which was approved this past June, is a pharmaceutical formulation of highly purified cannabidiol (CBD) approved for the treatment of seizures associated with Lennox-Gastaut syndrome (LGS) or Dravet syndrome in patients two years of age or older. Both conditions are rare forms of epilepsy that begin in childhood that cause debilitating seizures.
"We are delighted to announce that Epidiolex is now available by physician prescription as a new treatment option for patients with LGS and Dravet syndrome, two of the most difficult-to-treat forms of childhood-onset epilepsy," said Justin Gover, Chief Executive Officer of GW Pharmaceuticals. "Because these patients have historically not responded well to available seizure medications, there has been a dire need for new therapies that aim to reduce the frequency and impact of seizures."
The new cannabidiol formula, or CBD for short, is administered orally and has been shown to significantly reduce the frequency of drop seizures in patients with LGS and convulsive seizures in patients with Dravet syndrome. Though it is derived from cannabis, it does not contain tetrahydrocannabinol (THC) which means that no "high" is produced, differentiating it from the mind-altering substance sought by recreational marijuana users. The most common side effects that occurred in Epidiolex-treated patients were somnolence (drowsiness); decreased appetite; diarrhea; transaminase elevations; fatigue, malaise, and asthenia; rash; insomnia and infections.
The London based pharmaceutical company plans to charge about $32,500 a year for the new treatment— that's roughly $2,708 a month, $625 a week, or $89 a day. Representatives from GW Pharmaceuticals said the medication is priced to be in line with other brand-name epilepsy drugs and is eligible to be covered by insurance for patients who meet the aforementioned medical criteria. The company has also introduced a program designed to help patients gain access to therapy by providing resources to help lower out-of-pocket costs or provide product at no cost for eligible patients. More information can be found at www.epidiolex.com.