Testingfg of Ads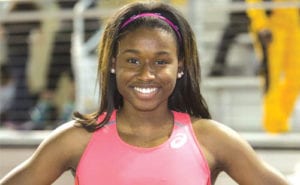 Rockdale County's track star Candace Hill, who holds the record as the fastest girl in the world, will qualify July 2-3 at the 2016 U.S. Olympic Track and Field trials in Eugene, Oregon. The trials determine which athletes will compete in the world's 2016 Olympics, which will be held in August in Rio De Janeiro, Brazil.
"You have to be one of the top three finishers at the trials in order to go on to the Olympics in Brazil," said Jo-Ann Davis, Hill's aunt who lives in Lithonia. "We're praying for her (Candace) to win in the track and field portion. She faces a strong field of sprinters at the trials."
Hill, who turned 17 in February and recently completed 11th grade, broke the record in the 100, running it in 10.98 seconds in June 2015. She turned pro last December at age 16, becoming the youngest American track athlete ever to become a professional. Hill produced a 4.9 grade-point average in her last semester.
The trials will be televised on NBC; NBCSN; and Streaming on Saturday, July 2, 12:33 p.m. Pacific Standard Time, and Sunday at 4:02 p.m. and 5:44 p.m.