Testingfg of Ads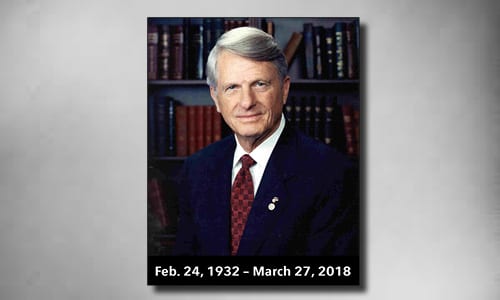 On Common Ground News extends its condolences to the family of former Gov. and U.S. Senator Zell Miller, whose homegoing celebration was held today, March 27, at 11 a.m., at Peachtree Road United Methodist Church in Atlanta.
Gov. Miller passed away on Friday, March 23, 2018. He served in many public capacities and led an extraordinary career as a public statesman. During his time as governor, Mr. Miller established the HOPE Scholarship.
President George W. Bush, President Jimmy Carter and President William J. Clinton  all spoke at the homegoing service. Today's worship leaders were Bill Britt and Don Harp.
A memorial service was held in Young Harris, Georgia, Mr. Miller's hometown, on March 26 at the Glenn-McGinnis Hall Charles R. Clegg Fine Arts Building at Young Harris College.