Testingfg of Ads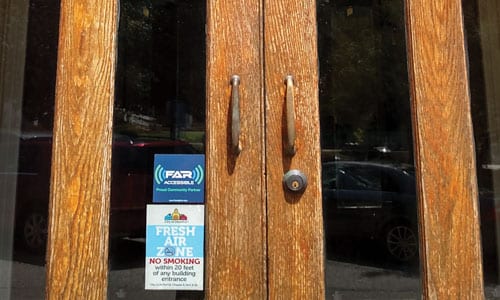 DECATUR—Smart technology is helping the visually-impaired to get around city buildings in Decatur. Foresight Augmented Reality (FAR) has teamed with the city of Decatur to provide smart technology for seven locations within Decatur's city limits, making Decatur the first official city to implement the technology. The FAR-accessible locations provide directions for the blind and vision-impaired.
FAR-accessible buildings include the installation of a Bluetooth beacon, that when paired with the FAR Vision mobile app, provides users with descriptive information such as entrances and exits, restrooms, hazard warnings and more.
"This project opens a lot of doors for the visually impaired community in Decatur and the surrounding area," said Foresight co-founder and CEO Tara Williams. "With the FAR Vision mobile app, more people can access many of the great features the city of Decatur has to offer. We hope this movement continues to build momentum until the entire Atlanta area is accessible for the blind and visually impaired."
Decatur Mayor Patti Garrett said one of the goals of the city's 2016 Better Together Community Action Plan for Equity, Inclusion and Engagement was to support community participation and engagement among all members of the city's population.
"Making city buildings more readily accessible to the blind and visually impaired allows us to reach and include a broader spectrum of community members in city life," Garrett said.
Highlights of Decatur's 65-beacon installation include Decatur City Hall, Decatur Police Department, Ebster Recreation Center, Decatur Recreation Center, Decatur Visitors Center, the Decatur Square Community Bandstand and the Decatur Transit Station plaza.
Foresight Augmented Reality was founded in 2016 in Atlanta with the goal of creating smarter communities. FAR's beacons provide compliance beyond ADA requirements for businesses looking to support those with vision-related disabilities.
According to the National Foundation for the Blind, there are 7.3 million visually impaired people living in the U.S.
For more information, visit www.ForesightAR.com and download the FAR Vision mobile app for iPhone, iPad or Android devices.