Testingfg of Ads
A Stone Mountain student's Morehouse College debt is wiped out by billionaire, his older brother recovers from brain tumor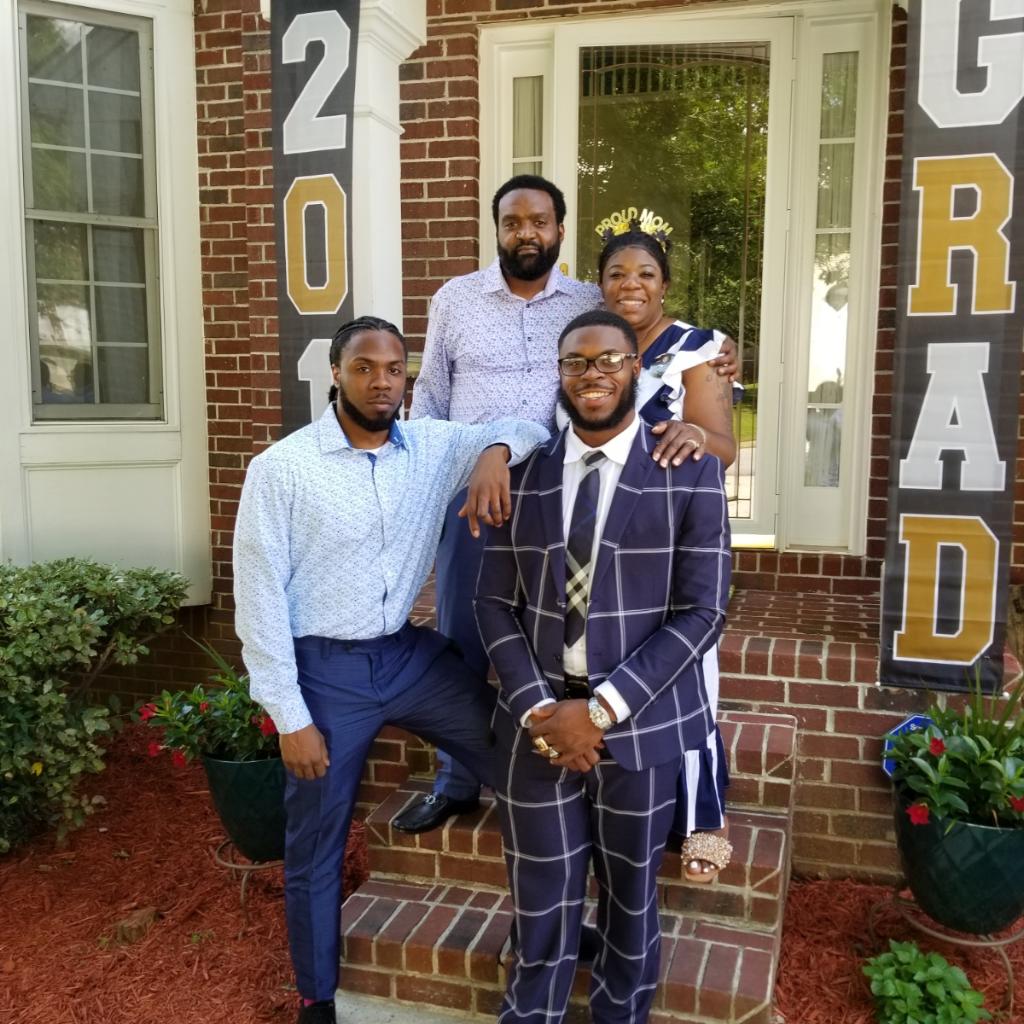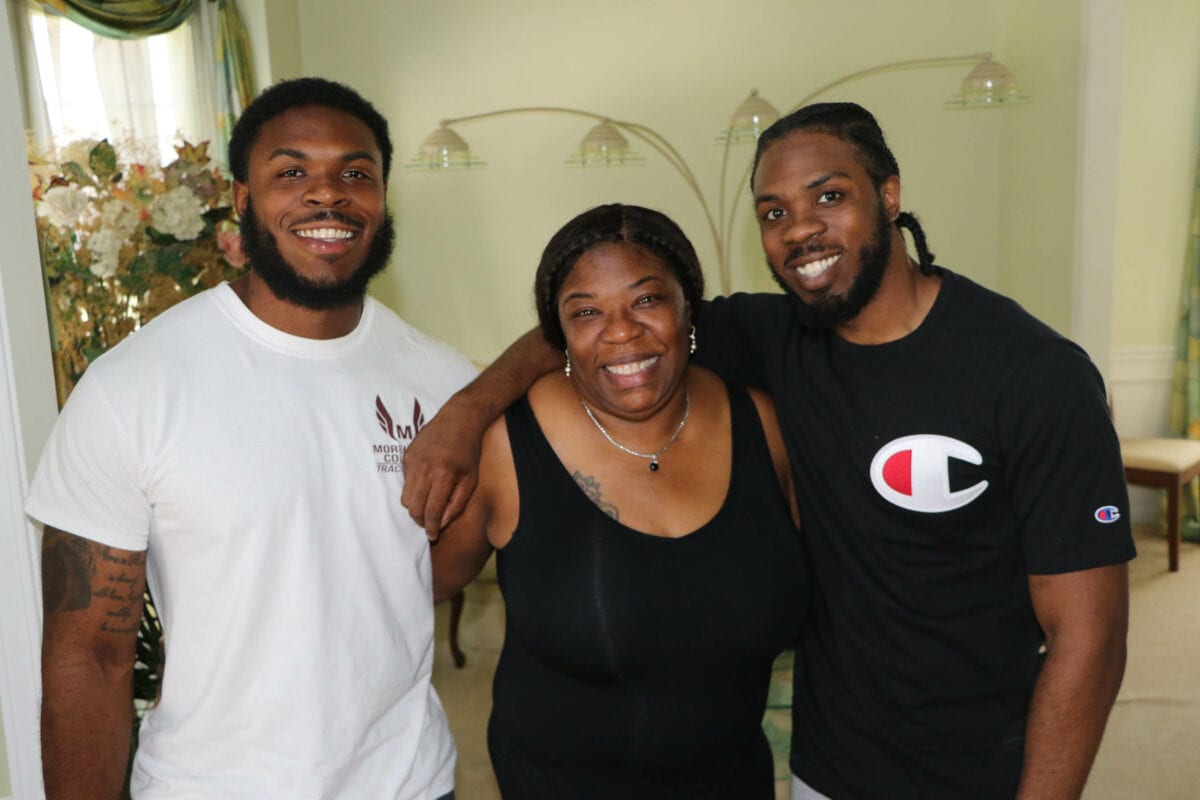 Front L-R: Brandis and Andrew Green pose with their parents, Andrew and Rachel Green, outside their home. Andrew, the Morehouse graduate, beams proudly. Right Photo by Glenn L. Morgan/OCG News: Mom Rachel Green poses with sons Andrew (left) and Brandis (right). 
By Valerie J. Morgan
Rachel Green knows the power of faith and power. The Stone Mountain resident says her family has witnessed two major blessings in the last six months and she gives all the glory to God.
In May, Rachel and her husband, Andrew, were shocked when their 23-year-old son, who is also named Andrew, received a financial blessing from a man none of them had ever heard of. Andrew was one of the 396 Morehouse College graduates whose college debt was paid off by billionaire investor Robert F. Smith, the commencement speaker. Smith, founder and CEO of Vista Equity Partners, announced near the end of his speech at the May 19 graduation that he was paying off the college debt of every Morehouse graduate in the class of 2019. The donation—an estimated $40 million—made headline news across the country.
For Andrew Green and his family, the gift meant $30,000 in debt would vanish.
In December 2018, the Greens' lives were restored, after steadfastly praying. Their oldest son, Brandis, now 26, was clinging to life, unable to see, walk or talk. Times were stressful for the family. Rachel Green found solace through prayer and focused on "radical faith–" sermons from Bishop Gary Hawkins, Sr., of Voices of Faith Ministries, where she and her family have been members for over 15 years.
Rachel Green said Brandis miraculously recovered from a tumor that had caused bleeding on the brain. His doctor, she said, was unable to medically explain what happened 103 days after they checked a new MRI scan and found no tumor.
"I had prayed: Lord, if you could just restore my family… and when the doctor said the scan no longer showed the tumor, I knew that God had answered my prayer," said Green.
Green recently shared her testimony of God's grace and mercy with the congregation of Voices of Faith Ministries. Green ran excitedly to the front of the church as Bishop Hawkins spoke on "Supernatural Debt Cancellation," citing biblical scriptures from the book of Isaiah 43:18-9. Green shared the story about her son, Andrew, who had his college debt wiped clean. She said he had started a new job with a good salary.
"If I never learned anything from Bishop, I learned that you've got to have faith—radical faith. You've got to trust God," Rachel Green said.
Andrew said he believed that somehow his college debt would not be his to pay in the end. As an athlete from DeKalb County's Arabia Mountain High School, Andrew received a football scholarship to Morehouse College but his parents still had to pay much of the costs for him to attend the prestigious historically black college in Atlanta for men.
Andrew spent five years at Morehouse, after changing majors in his third year. With tuition, room and board, books and other fees totaling about $45,000 a year, Morehouse was expensive for his parents—a nurse and truck driver.
Andrew said he had never heard of Smith, but he is thankful for his generosity.  Forbescited Smith's net worth at $4 billion, making him the richest black man in America.
Andrew, like many of the graduates and their families, were in a daze when Smith made his announcement. Everyone had been outside since early that morning and as temperatures rose, the sweltering heat took a toll on the crowd. As Smith wrapped up his speech, he made an announcement out of the blue:
"On behalf of the eight generations of my family who have been in this country, we're going to put a little fuel in your bus," Smith said. "…My family is going to create a grant to eliminate your student loans."
As Andrew Green processed what Smith said, he and the other graduates found themselves applauding as if a wave had gone through the crowd.
"It was surreal. Amazing. I couldn't believe it. A total stranger just wiped out all of my college debt," said Andrew, who owed about $30,000.
Green's mom, Rachel, was stunned and ecstatic, too.
"I couldn't believe it. When he (Smith) said it, I asked my husband: 'What did he just say?' He said something about paying some loan, my husband said. I said he said he is going to pay their loan? And I just took off running.