Testingfg of Ads
July 4, 1959—April 6, 2018
UPDATE – The medical examiner report found that Jesse "Jay" Cunningham died of a heart attack. The viewing for Mr. Jesse "Jay" Cunningham will be held on Sunday, April 15, 2018, noon to 7 p.m., at Gregory B. Levett & Sons Funeral Homes, 4347 Flatshoals Rd. Decatur. A memorial service will be held on Sunday from 5 to 7 p.m. at the funeral home's chapel. The homegoing celebration will be held at noon on Monday, April 16, at Greater Piney Grove Baptist Church, 1879 Glenwood Ave., Decatur. The Rev. William E. Flipping, Sr. is officiating.
Dead At 58
By Valerie J. Morgan
Friends have placed a memorial of flowers and balloons in front of Jesse's Restaurant & Lounge, located in the Wesley Chapel Crossing Shopping Center in South DeKalb.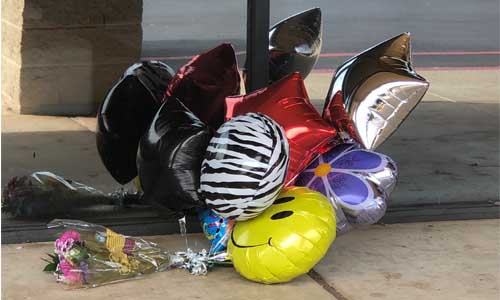 The expressions of love are for former DeKalb School Board member Jesse "Jay" Cunningham, who owned the restaurant. Cunningham died suddenly sometime Friday morning. He was 58.
Cunningham, who was elected in 2006 and served on the School Board for eight years, also was remembered this morning (April 7) at the Cultural Exchange Community Breakfast hosted by Stonecrest City Councilman Rob Turner and his wife, DeKalb School Board member Vicki B. Turner. The packed audience held a moment of silence to remember Cunningham.
Cunningham was a well-known champion for MLK, McNair and Southwest DeKalb high schools, as well as Flat Rock and Narvie J. Harris elementary schools.
The family is awaiting an autopsy from the medical examiner to determine the exact cause of death.
Evelyn Cunningham said her husband was not feeling well earlier in the week and had complained of feeling tired. She said last year, Cunningham suffered a heart attack and had a mild stroke earlier this year.
"He was running the business, putting in a lot of hours," said Evelyn Cunningham, who received church members and friends at her home throughout today.
Jay Cunningham had recently re-opened his restaurant after renovating the bar and grill to give it a new look with the help of his brother, Malcolm Cunningham. The restaurant was running radio ads and Jay's son, Brandon Cunningham, also was helping to promote the business through social media.
Lisa Cunningham, one of Jay Cunningham's sisters, said their family is taking the loss of their loved one very hard. His mother is overcome with grief.
"We knew Jay had dealt with some health issues, but he was looking forward to a successful future. He had gotten a new wardrobe and he was looking good," said Lisa Cunningham. "It's just a bitter pill to swallow."
Lisa Cunningham said Jay was not only a brother, but a father figure to her and her siblings. She said Jay was the eldest of seven children, six of whom have the same biological mother and father.
"He helped raise the six of us when our father died," said Lisa Cunningham.
Cunningham's three children and two stepchildren, who are all adults, also were dealing with the blow in their own way. Brandon, said today that he was still trying to process his dad's death and was unable to say much more than that. Cunningham's step-daughter, Erica, had been crying all day. Erica went live on Facebook hours after learning of his death to express her sadness.
"Pray for my family because we definitely do need it," Erica said through tears.
Funeral arrangements will be announced later.