Testingfg of Ads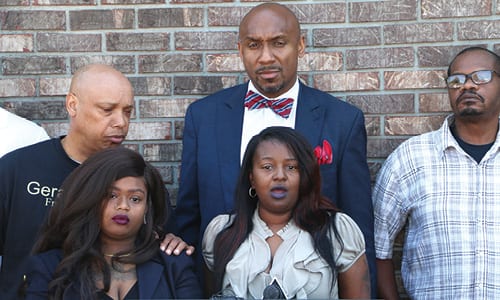 By Valerie J. Morgan
After waiting for answers for two months, the family of 22-year-old Shali Tilson is hoping to learn how their loved one died while in custody at the Rockdale County Jail on two misdemeanor charges. 
Attorney Mawuli Davis said the family hopes to get an update at a meeting with the GBI on May 14. 
"We look forward to hearing from the director to find out where they are in the investigation so they can provide any evidence that we can collect (for this case)," said Davis.  
Davis said Tilson was arrested on March 9. Nine days later, his family received a call from the Sheriff's Office that he was dead. No cause of death was given.  Immediately after Tilson's death, Sheriff Eric Levett said in a news release that the matter was turned over to the GBI for investigation. Levett said he could not provide any more information pending the investigation.
Davis, community organizers and Tilson's family held a news conference on May 4 to urge witnesses to come forward.  
"If there is anyone out there who was at the jail when this tragedy occurred, we're asking them to call us. We just ask that you have the courage to come forward and to share with us what happened, what you observed and what you witnessed," Davis said.
Tynesha Tilson said she is heartbroken over her son's death. 
"My son was a good kid who graduated from Rockdale County High school in 2014. He wasn't a criminal. We don't know what happened to him. How does he end up dead and no one is saying anything," Tynesha Tilson said.
Davis said Tilson did not have any health problems. He was arrested by Conyers Police on March 3 for disorderly conduct and obstruction of a law enforcement officer.      
 "What we know for sure is that a 22-year-old who walked in 9 days before should not be carried out dead," said Davis. "What we know for sure is that he was healthy and there was no reason that his life should have ended in Rockdale County Jail being held on two misdemeanors. We're very clear about that."   
Thomas Brantley, Jr., president of the Rockdale County NAACP, expressed his confidence in the Sheriff's Office to follow through with its investigation.
"He (Sheriff Levett) knows that this is a high profile case.  I have confidence in him," Brantley said.    
Gerald Rose, who heads New Order National Human Rights Organization, said he plans to monitor the case closely. 
"We want justice for this family, " said Rose, who attended the news conference. "We're going to be here. We don't know if this is another Sandra Bland case," he said referring to the 28-year-old black woman who died while in custody at the Waller County, Texas jail in July 2015, three days after she was arrested on a traffic stop. Her hanging death was ruled a suicide.
   "We're going to make some noise. My job is to start calling on other organizations," Rose said.