Testingfg of Ads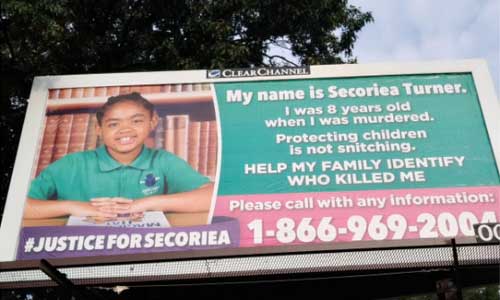 The family of 8-year-old Secoriea Turner, who was shot to death on July 4 outside of a southwest Atlanta Wendy's restaurant, has placed two billboards seeking witnesses to come forward.
The billboards read, "My name is Secoriea Turner. I was 8 years old when I was murdered. Protecting children is not snitching. Help my family identify who killed me. Please call with any information: 1-866-969-2004."
One of the billboards is located at I-75/85 and University Avenue, facing north on the east side of the street. The other billboard is at University Boulevard and Pryor Street facing east on the south side of the street.
Secoriea's parents have made impassioned pleas for help.
"Her life mattered. We just want the community to remember her and help in our fight for justice," said Charmaine Turner, the child's father.   
"I just want people to remember this was an innocent child in our community, who never hurt anybody," Secoriey Williamson, Secoriea's father.
Turner was killed after a group of men fired into the car in which she was riding with her mother and a friend. A confrontation broke out as the driver tried to maneuver around an illegally erected barricade in the street near the Wendy's. The site is where demonstrators have been protesting the police shooting of Rayshard Brooks, who was killed after he fled from police who were trying to arrest him after he fell asleep in the restaurant's drive-through. The shooting prompted local protests that drew national attention.
So far, one person has been charged in connection with Secoriea Turner's death. Julian Conley, 19, was charged with aggravated assault and felony murder. He has denied that he fired shots into the car Turner was riding in but has said he was armed.
Police have released photos of one other suspect, but that person has not been arrested.
Anyone with information about the case is asked to call 1-866-969-2004.