Testingfg of Ads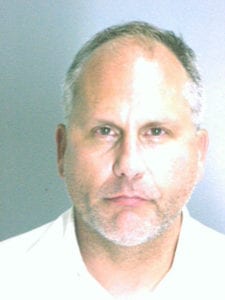 Jeffrey Breedlove, DeKalb County Commissioner Nancy Jester's chief of staff, is facing felony charges after falsely telling police he was held against his will in a motel room during a bizarre incident in which he admitted he was a crack cocaine addictlice said Breedlove tried to convince them not to arrest him.
Breedlove, 49, was arrested on Monday, Oct. 24, at the Budget Inn and Suites on Memorial Drive. DeKalb County Police found him inside Room 222 with a 26-year-old man and an 18-year-old woman. Police were responding to a call that someone needed help and that a gun was at the location.
The officers ended up arresting Breedlove on charges of filing a false imprisonment report, a felony, and taking statements from him in which he admitted that he was addicted to crack cocaine. Breedlove allegedly told police that "theoretically speaking" if he bought crack, it would be from the man in the room. No drugs were found in the room, however, and the man and the woman were not charged in the incident, police said.
According to the police report, Breedlove said he owed the man $200 and intended to give him an American Express card worth $2,700. He allegedly asked the officer if he could "make this go away," telling him if he needed anything from him, he would do it. Breedlove said he was a "very important person," the chief of staff for DeKalb County Commissioner Nancy Jester, the report said.
Jester could not be reached for comment, but told CBS 46 that she had fired Breedlove immediately upon learning of his arrest. The television station said Jester issued the following statement:
"I do not condone or tolerate lack of performance in an employee and I have taken swift and immediate action regarding this situation. I look forward to moving forward to continue to add value to the citizens of District 1 and all of DeKalb."
Breedlove's arrest surprised many in the community. Recently, he had sent out several news releases on behalf of Jester criticizing DeKalb Commissioner Larry Johnson and ICEO Lee May for not working harder to condemn the dilapidated Creekside Forest Apartments, which is in Johnson's district. Jester even made a video about the apartments, saying that it was a public health hazard, "a haven for anybody who wants to come into this community and conduct illegal activity."
DeKalb Commissioner Mereda Davis Johnson said she had received several calls about Breedlove's arrest, and would pursue an audit of his and Jester's expenses if constituents demanded one.
"First of all, my heart goes out to Jeff and his family and to Commissioner Jester," Johnson said. "DeKalb County has been under a cloud of corruption. One of the things we have promised is transparency, that no taxpayer funds have been misappropriated. If constituents want an audit, I would have to support that."
Jester hired Breedlove at a salary of $30,000 a year in January 2015. Breedlove received raises that put his salary at $107,000 a year at the time he was terminated, county officials said. Commissioners, as part-time employees, earn between $38,375 and $42,758 a year, based on longevity.