Testingfg of Ads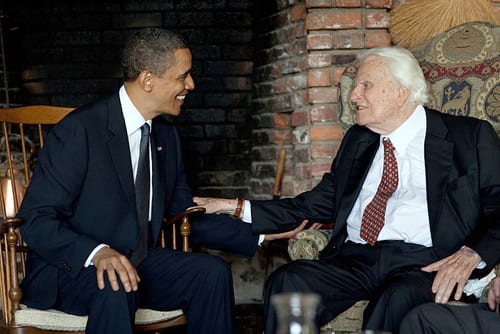 Evangelist Billy Graham died today (Feb. 21) of natural causes at his home in North Carolina. He was 99. Described by many as "America's pastor," he evangelized to nearly 215 million people over six decades. He prayed with U.S. Presidents from Harry Truman to Barack Obama.
Congressman John Lewis issued the following statement:

"Billy Graham was a noble man — a true servant of God; he had the ability to speak truth to power.  He was like a shepherd looking over the flock of humankind.  He was a man of hope, a man of faith—a man of love, and he will be sorely missed.

"Many years ago, I first heard Billy Graham in person when I was a college student in Nashville, Tennessee.  He was so inspiring.  He taught us how to live and how to serve.

"A few short years ago I had the opportunity to visit him at his beautiful home in the North Carolina mountains.  He was so warm and uplifting. You knew by being in his presence that he was a man of faith and patience.  I will never forget the meeting I had with him.

"Billy Graham must be looked upon as a saint among humankind.  I wish his family my deepest condolences during this period of mourning."
Mayor Keisha Lance Bottoms issued the following statement on Rev. Graham's passing:

The City of Atlanta offers its sincere and heartfelt condolences to the family, friends and countless followers of Reverend Billy Graham. His inspiring leadership comforted and enlightened Christians around the world as he shared the message of the Gospel. Reverend Graham united his followers in faith and will be remembered fondly by all who claim membership in the universal congregation of peace and goodwill.
According to Billy Graham's official obituary at BillyGraham.org: Billy Graham is survived by his sister Jean Ford; daughters Gigi, Anne and Ruth; sons Franklin and Ned; 19 grandchildren; and numerous great-grandchildren. His wife, Ruth, died June 14, 2007, at age 87, and is buried at the Billy Graham Library.
A private funeral service is planned at the Billy Graham Library, on a date to be announced. In lieu of flowers, memorial gifts may be made to the ongoing ministry of evangelism at the Billy Graham Evangelistic Association, online at BillyGraham.org or via mail, sent to the Billy Graham Evangelistic Association, 1 Billy Graham Parkway, Charlotte, NC 28201. Notes of remembrance can be posted at BillyGraham.org