Testingfg of Ads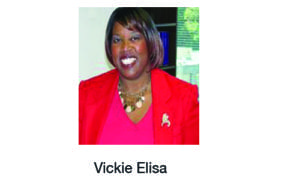 Marketing Director Vickie Elisa is retiring after a 30-year career with the DeKalb County Board of Health. Elisa, who has worked in health communication, social marketing and health program development, is an Emmy, Telly and Addy-award winning television producer.
A celebration honoring her work and advocacy in the community will be held May 25, 1:30 p.m., at the DeKalb County Board of Health, Richardson Health Center, 445 Winn Way, Decatur (second floor).
A champion for women's health and financial education, Elisa worked on First Lady Michelle Obama's 2011-2013 Let's Move Campaign for DeKalb County and served as a White House Community Leader on Policy Issues. She was the Georgia TV producer for a 2000 White House Teleconference on "What Every Woman Needs to Know about Retirement," which was hosted by Hilliary Rodham Clinton. Elisa has worked with the Pew Charitable Trust on Social Security education for women. She was honored by the U.S. Department of Labor, Women's Bureau for her work in promoting the field of nursing through the GEM-Nursing Mentor program, according to wiserwomen.org.
Elisa has served as president of Mothers' Voices Georgia, a non-profit organization working to improve the health and social status of women and their families, she has developed a wide array of health education programs, including Smart Women & Money, a financial literacy program developed and supported by the Women's Institute for a Secure Retirement.