Testingfg of Ads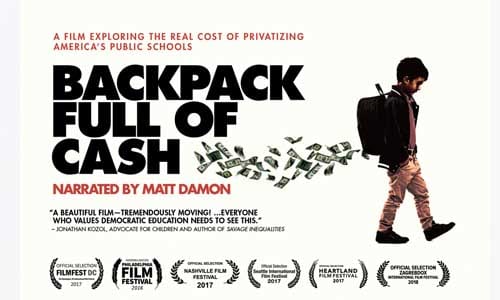 The Georgia Federation of Teachers, JEEPAC and the DeKalb Chapter of the NAACP are hosting a free screening of the documentary, "Backpack Full of Cash," on Wednesday, Jan. 30, 7 p.m., at the Porter Sanford Performing Arts Center, 3181 Rainbow Drive, Decatur.
The documentary, narrated by Matt Damon, a Cambridge, MA public school graduate, exams how charter schools, vouchers and the privatization movement are threatening the nation's public schools. Former Assistant Secretary of Education Diane Ravitch, writer David Kirp and policy expert Linda Darling Hammond are among the national thought leaders who provide analysis in the film.
Filmed in Philadelphia, New Orleans, Nashville and other cities, Backpack takes viewers through the tumultuous 2013-14 school year, exposing the world of corporate-driven education "reform" where public education — starved of resources — hangs in the balance. Backpack puts a human face on complex social, racial and civic issues confronting educators, students, families, and communities.
A discussion will follow the screening. Adults only are invited to the event because of limited space.