Testingfg of Ads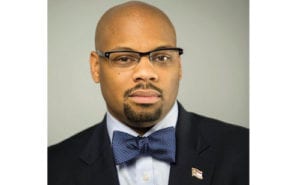 Leaders of the East Metro DeKalb Community Improvement District (CID) have selected an experienced administrator to serve as its organization's first executive director.
Sanders of Stone Mountain will oversee the daily operations of the East Metro DeKalb CID. Sanders most recently served as an Assistant Director of the Georgia Department of Revenue, where he managed hundreds of employees and multi-million dollar budgets.
"This is a unique opportunity to work directly with corporate and community leaders to produce real positive results," Sanders said. "I am ready to immediately help the CID increase public safety, improve curb appeal and make this a much more attractive location for businesses to find success."
Sanders held multiple lead positions during his five years with the Georgia Department of Revenue, including serving as the Legislative Liaison for Taxpayer Services to the Georgia General Assembly. Prior to working for the department, Sanders spent eight years at Georgia Pacific as Manager of Business Information and Solutions.
"Sanders brings invaluable insights from his time in the private sector and with a state agency in charge of expansive business-related functions," said CID Board Chairman Frederick Daniels, Jr. "As a board, we believe that Christopher Sanders is the best choice to connect our CID with stakeholders and other communities of interest," Daniels Jr. continued. "He has strong experience in government-related administration, and we expect him to thrive as our executive director."
Prior to Sanders' hire, the CID's administrative tasks were performed by the Nickel Works Consulting firm, led by Nicole Hall.
Sanders immediately engaged CID property owners, partners, and stakeholders as part of the Technical Assistance Panel (TAP) effort coordinated with the Urban Land Institute-Atlanta (ULI). The panel brought together commercial real estate experts to devise innovative methods to spark investment and economic redevelopment throughout the Wesley Chapel – Panola Road corridor.
The East Metro DeKalb CID was formed in 2014 through a unanimous vote of the DeKalb County Board of Commissioners, and accounts for more than 205 commercial property owners.