Testingfg of Ads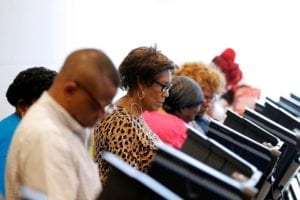 Georgia was headed to reach 2 million early voters as the early voting period neared an end. By Nov. 2, early voters had cast over 1.9 million ballots in the General Election set for Nov. 8, according to the Secretary of State's Office.
"The numbers speak for themselves.  The early voting system is working and we look forward to a smooth General Election," said Secretary of State Brian Kemp.
Kemp reported 1,748,726 advance in-person ballots had been cast and 154,818 mailed-in absentee ballots had been returned.
Advance in-person voting began on Oct. 17. On Election Day, the polls will be open from 7:00 a.m. to 7:00 p.m.
Early voting turnout in DeKalb County
DeKalb County elections officials reported 149,926 early voters as of Nov. 2. That number includes 12,442 mailed-in ballots. 493,147
Early voting turnout in Rockdale County
About half of the 50,003 registered voters in Rockdale County already had cast their vote during early voting. The early voting turnout in Rockdale as of Thursday, Nov. 3, 4:30 p.m., was 25,304. The number includes 23,577 in-person ballots and 1,727 mail ballots issued, elections officials