Testingfg of Ads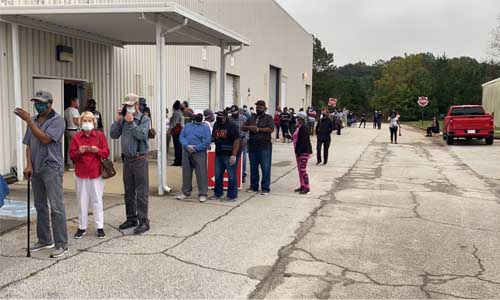 Early Voting: Rockdale County 'rocks' with massive turnout
CONYERS–Hundreds of voters lined up this morning at the Parker Road precinct, the only site open for early voting in Rockdale County.
The line looped around the large Parker Road complex, stretching from the front to the sidewalk on Parker Road with people wearing their masks and carrying lawn chairs, well-prepared for the wait.
Rockdale Clerk of Court-Elect Janice Morris, who was in the long line, said volunteers from Springfield Baptist Church were passing out water and chairs, along with other volunteers.
"We are out here rockin' the vote!" Morris exclaimed with excitement.
Morris, who was No. 293 around 11:30 a.m., commended Rockdale County elections officials for a well-organized first day of Early Voting.
"They're doing an amazing job," Morris said.
Kai Oden, who arrived around 7:30 a.m. and was with Morris, said the four-hour wait was worth it.
"People were not complaining. They did what they had to do. I didn't mind waiting. They didn't mind waiting," said Oden. "They came with a purpose."
Morris said elections officials created a special line for the disabled and seniors over age 65.
Inside, photographer/videographer Glenn Morgan captured more of the organized effort for the first day, Oct. 12.
Photos and video by Glenn L. Morgan, On Common Ground News