Testingfg of Ads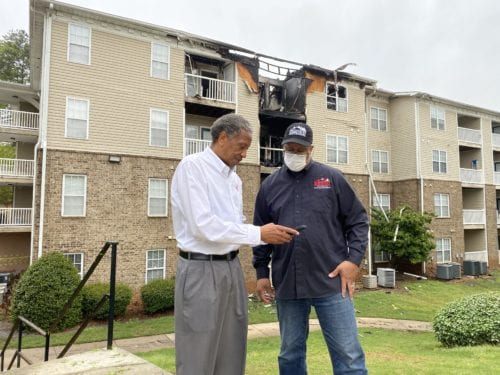 City officials, others team up to provide assistance 
 STONECREST—Stonecrest Mayor Jason Lary and City Councilman Jimmy Clanton were on the scene this morning (April 8) at the Retreat At Stonecrest apartment complex, where a fire displaced 26 families. The apartment complex on Amanda Drive sits in Councilman Clanton's District 1.
Stunned residents, some of them standing outside of their vehicles, described a chaotic scene to the mayor and Clanton. They said that people were scrambling to get out of their apartments as neighbors knocked on doors to wake those who were sleeping when the fire broke out around 1:30 a.m.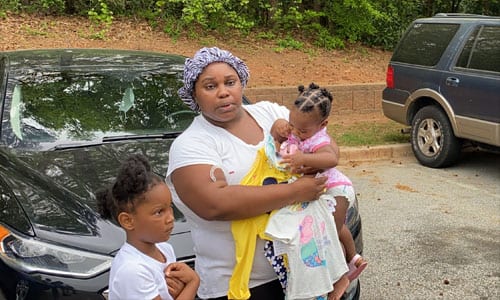 "I was sleeping and I heard what sounded like running. I didn't know if someone was fighting or what. When I realized it was a fire, I grabbed my two kids and we got out," said Sequora Mitchell, who was cradling her one-year-old baby as her 5-year-old daughter stood beside her outside her charred unit.  "I looked out my back window and I could sees flames."
Management at the apartment complex said there were no injuries and everyone got out safely. They did not know what caused the fire.
The blaze started on the fourth floor of one of the four-story apartment complexes. Heavy damage appeared to be in the kitchen of one of the units and spread to other areas of the building.
"Many of them have lost everything, but they are alive and no one was hurt," said Mayor Lary. "It had to be horrific—to be sleeping and hearing people running and smelling smoke. What the fire didn't destroy, the water from the sprinkler systems and firefighter's hoses did."
Councilman Clanton said he plans to see what will be needed—in addition to food, clothing and other basic necessities—to help the families. He said the American Red Cross is temporarily putting some of the families in hotels in Rockdale and in DeKalb. The 26 families represent 75 people, Clanton said.
"They are working out the lodging but some of them didn't have time to grab their wallets or other important papers. We're going to need to do something to assist them in getting those kinds of things back," said Clanton.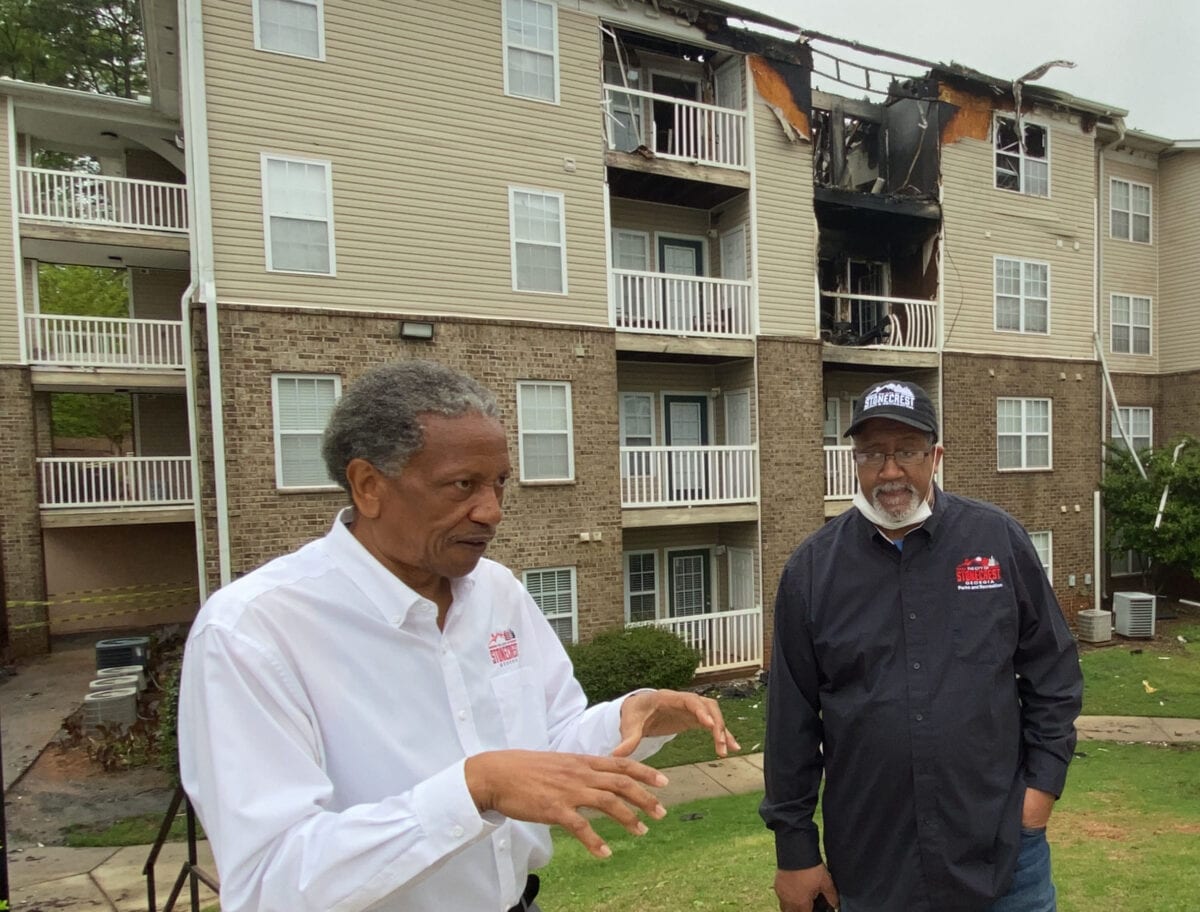 Clanton said he and his wife, Edwina, responded immediately when they learned of the fire. He said his wife used to live at the complex before they met and married.
The early morning blaze was the second apartment complex fire in the city of Stonecrest in a five-day period. On Saturday, April 4, a fire broke out at the Belle Vista apartment complex on Camellia Lane. DeKalb County Fire officials said the blaze started in a unit on the third floor around 6 p.m. and spread to the roof. Officials said no one was hurt.
Red Cross officials said 23 families (75 people) were displaced after the Belle Vista blaze. No one was injured.
Mayor Lary said the city plans to collect clothing and nonperishable items for the 49 families impacted by both fires.
Lary said an assistance drive is underway with Lithonia Mayor Shameka Reynolds, Stonecrest  City Councilman Rob Turner, Councilman Jimmy Clanton, DeKalb County's Super District 7 Commissioner Lorraine Cochran-Johnson and community activist Omar Howard, founder of the Freedom Is A Choice nonprofit.
Mayor Reynolds is making available Tri-Cities Funeral Home, where she is director, as a drop-off point. Donations of clothing, hygiene items and nonperishables will be collected Thursday through Saturday (April 9-11), noon to 4 p.m., 6861 Main Street, Lithonia.
If you have a story to pitch or picture you would like to share with On Common Ground News readers for our "Life With COVID-19" series, please e-mail editor@ocgnews.com. We welcome first-person stories as well as stories about interesting and impactful things that are going on in your communities during the pandemic.