Testingfg of Ads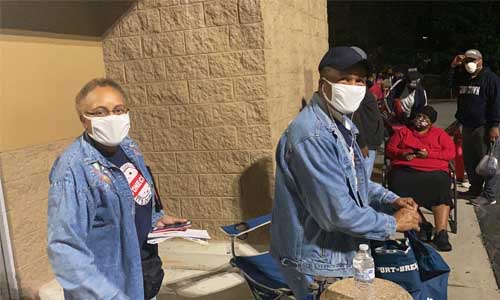 Stonecrest residents Susan and Julius Lee were the first in line for Early Voting at the Stonecrest precinct on Oct. 12, the first day of early voting in DeKalb County, which drew hundreds before dawn.
Massive turnout for Early Voting at Stonecrest Precinct, Oct. 12
STONECREST–Hundreds of voters arrived under the cover of darkness this morning to cast their ballots at the Stonecrest Precinct on the first day of Early Voting in DeKalb County.
Lines snaked from the front door of the former Sam's Club, the future home of the new Stonecrest City Hall, across the parking lot to the McDonald's restaurant on Turner Hill Road.
Stonecrest residents Julius and Susan Lee were the first in line, arriving at 6:20 a.m. They said they would not have missed the opportunity to participate in this historic election, which is drawing unprecedented numbers of voters across the nation to the polls to decide if Republican President Donald Trump will return to office or Democratic nominee Joe Biden will take the helm.
Stonecrest Mayor Jason Lary also arrived before daylight at the Stonecrest precinct to cast his ballot and to welcome voters. He said today is historic for the city of Stonecrest, which is serving as the largest precinct in DeKalb County for early voting and the second-largest in Georgia behind the Atlanta Hawks' State Farm Arena in Fulton County.
Elections officials worked during the wee hours of this morning to set up voting equipment at the 131,000-square-foot Sam's Club. The mayor said operations went smoothly and were well organized.
Photos and video by Glenn L. Morgan, On Common Ground News