Testingfg of Ads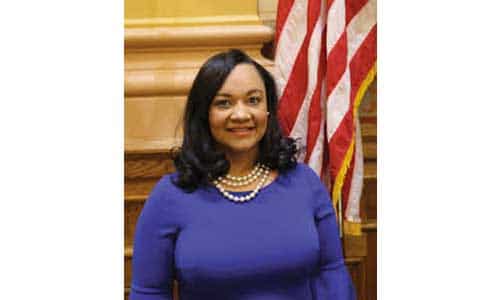 ATLANTA–Democratic Party Chair Nikema Williams has been selected to replace the late Congressman John Lewis on the November ballots, the Party announced this afternoon(July 20).
The Party selected its on chair over four other finalists that its executive committee had picked in an urgent search.  Williams, a state senator and self-described protégé of Lewis, was chosen to replace Lewis on the ballot following his death on July 17.
The Party's executive committee met today during a rushed Zoom call to select Williams. According to Georgia laws, party officials had to meet a deadline of today to determine whether to replace Lewis' name on the ballot.
Williams was one of 131 candidates who submitted online applications to be considered to run for the seat in November. She will face Republican Angela Stanton-King, an ally of President Donald Trump, in November.
The Party said the decision was not an easy one to make since Lewis' very recent passing and the deadlines imposed by Georgia law to select another Democrat to go on the ballot by today.     
"This was a very difficult decision to make so soon after Congressman Lewis's passing, and the Executive Committee is grateful to every applicant who submitted their name for consideration," DPG General Counsel Sachin Varghese said. "We have done our best to keep this process open and fair, while working within the strict framework and timeline set forth in Georgia law. After discussion and voting, the Executive Committee agreed that Nikema Williams' years of service to the Fifth District and commitment to justice make her the best possible candidate for this role, with a very important legacy to uphold.
 
"When Nikema Williams decided to seek the nomination, she recused herself from her role as chairwoman, handing off the process to other party leaders including myself. Today she recused herself from the vote and the discussion of the candidates among Executive Committee members, and was treated the same as every other candidate."
 
DPG Executive Director Scott Hogan issued the following statement:  
"As a Party, we remain committed to upholding Congressman Lewis' legacy of fighting for justice and for free and fair elections for every Georgian. We acknowledge that despite our best efforts here, both law and circumstance require us to use a system that falls short of a full district-wide election to ensure that we have a strong Democratic nominee on the ballot in November. 
While this system was not perfect and we were forced to use what the Secretary of State and Georgia law demands, we know that we have the absolute best candidate in Nikema Williams who will fight hard for Georgians.
 
"We congratulate Nikema on this appointment, and look forward to working with her in this new capacity as we uphold and build on Congressman Lewis' legacy and elect Democrats across Georgia this November."
 
Below are the recorded vote totals from today's Executive Committee:
After a nonbinding poll of 41 votes, Nikema Williams had 37 votes, Park Cannon had 2 votes, and James "Major" Woodall had 1 vote, with one abstention.
Upon reaching a 50% + 1 majority, the Executive Committee voted to approve Nikema Williams as the nominee.
Lewis died on Friday, July 17, of Stage 4 pancreatic cancer. The Civil Rights icon, who had served since 1987 representing Georgia's Fifth Congressional District for 17 terms, was 80 years old.
The DPG had announced late Sunday (July 20) that 131 candidates had applied to be considered for the seat.
This morning, the nomination committee, comprised of Fifth District and Democratic Party leaders, released the names of the individuals recommended.
"The nominating committee fully considered all of the applicants and, following a robust discussion, reached a consensus on its recommendations," said nominating committee member Jason Carter.
Out of 131 applicants, the nominating committee selected the following individuals:
Park Cannon
Andre Dickens
Robert Franklin
Nikema Williams
James "Major" Woodall
The full list of applicants for the GA-05 Democratic nominee role is available here.