Testingfg of Ads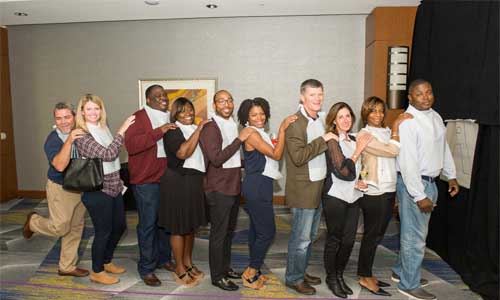 By Valerie J. Morgan
I've dined by candlelight plenty of times, but never shared a meal in complete darkness. So, when my husband, Glenn, and I recently were invited to a fundraiser in Atlanta called "Dining in the Dark," we went out of curiosity. The three-course Sunday dinner not only gave us an opportunity to witness firsthand a window into a world of darkness, it provided a deeper appreciation of the exemplary work the Center for the Visually Impaired (CVI) is doing to empower those with vision loss or completely blind. The Dining in the Dark event is one way that corporate and individual sponsors help raise awareness and funds for CVI, which provides an array of assistance including training, support groups and products. Annually, CVI assists some 4,000 clients and their caregivers to live life with independence and dignity.
This year, CVI's Dining in the Dark event was held on Oct. 1 at the Georgia Tech Hotel and Conference Center. About 200 guests from diverse backgrounds and ages attended the event, now in its second year.
The event began with mingling, beverages and table raffles, followed by brief orientations on how to dine in the dark. Table seating followed with an announcer calling out the assigned tables. When our time came, we were told to form a "Congo" line by placing our right hand on the shoulder of the person standing in front of us.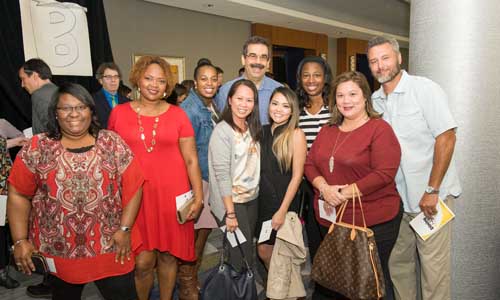 Since I was directly behind our guide, I was the first in our line to enter the dining area. There was not a speck of light. I blinked to see if I could make out anything. I still couldn't see a thing. I could hear voices all around me. Some people were laughing. Others were talking. We walked slowly, the Congo line making its way to our assigned seats.
"This is your table," the guide said. Instinctively, I reached for the back of my chair with one hand and placed the other on the seat, carefully sitting down. Next, I located my salad and dinner forks, which were at my left. Then, I located my knives, glass of iced tea and water at my right, exactly as we had learned in orientation.
"Good to go," I thought.
"Val, are you O.K?" asked Glenn, who was seated to my right.
"I'm fine. Just trying to find my salad now," I said.
"They haven't brought it yet. Have some bread. Remember: Go to 12 o'clock and slightly left and you'll put your hand right on it. It's on a small plate," Glenn said.
I found the dinner roll and said my grace silently. Glenn blessed his food and started the introductions. There were two young boys and seven other adults at our table. Glenn began making small talk. This was going to be a breeze for my military husband. While he was talking, I was thinking about not accidentally spilling anything and taking in the wonderful aromas of food.
Years before we met, Glenn had spent time in Germany as a soldier in the Army. A country boy from Florida, he enjoyed traveling in Europe while he was in the military. He also learned to survive in the fields. For example, eating meals—rations—out of a can was no problem for him. He also learned to tolerate the noisy blastings as a tanker. Most of all, though, the military gave him the chance to discover. That's how he was introduced to Chinese food and soy sauce.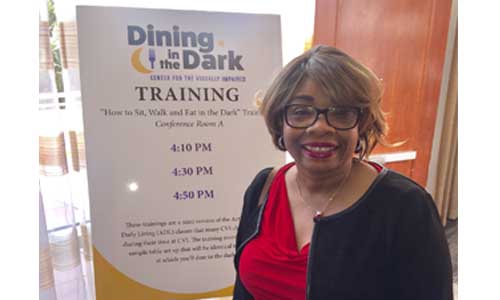 Do you see what I see?
"It's a Rye roll," I said, biting into my piece of bread.
"It's great," declared Glenn.
I reached over and found another roll on my left. No one was seated at that spot. I took it.
"You want another one?" I offered.
"How did you get two?" Glenn asked.
"I don't have a neighbor," I said, laughing. I felt mischievous but not enough to tackle any of the small table games provided.
There were two young boys and seven other adults at our table. The children asked when would dinner be served. Everyone at our table, however, was attending for the first time and had no idea. We all were by someone affiliated with CVI.
Soon after the kids' began wondering out loud, the servers brought salad. I remembered that we could use our fingers, if we didn't feel comfortable using a fork and knife. I was determined to use my salad fork and I did. I didn't bother with the knife.
Our servers were members of the Atlanta Police Department's SWAT team, who were using night vision equipment to navigate in the dark. They could see us but we could not see them. This was the second year they served as waiters for the event.
" Is the table a mess?" I asked out loud.
"You're doing fine," one of the SWAT members said and everyone laughed.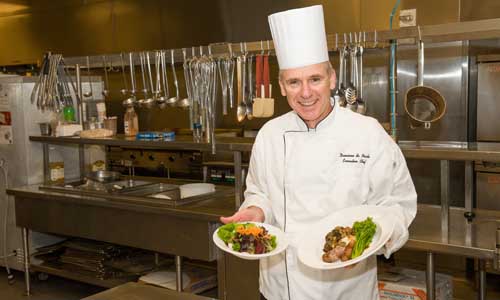 The main course
Next, the main course arrived, followed by dessert. I was surprised to learn at the end of the meal that I had correctly identified everything that was served. The meal was designed by the hotel's executive chef, Damiano deNicolo.
Now that we were finished with our meal, I wanted to check my cell phone but I remembered no lights were permitted.
I started thinking about singers Stevie Wonder and Ray Charles and their amazing accomplishments. I thought about Helen Keller, the American author, lecturer and political activist. Keller, who was blind and deaf, was inducted into the Alabama Women's Hall of Fame for her work. All of them were remarkable, not letting blindness stand in their way.
Suddenly someone flipped a switch and light flooded the room. The crowd cheered. I wondered how the visually impaired guests in the room felt at that moment. Were they cheering, too? Did it matter that the lights were one? For one evening, I had only a glimpse of life in darkness.
The dinner concluded with an awards presentation. CVI honored Cushman & Wakefield with its 2017 Helping Hand Awards. The firm provided assistance on a real estate project that will help the center carry out its mission.
The center also honored Dr. Steven Leff, an ophthalmologist who specializes in the treatment of retina and macular diseases at Woolfson Eye Institute. For the last three years, Dr. Leff has referred more patients to CVI for assistance than any other doctor in the metro Atlanta area.
Lead sponsors for Dining in the Dark include Georgia Power, Northside Hospital and UPS. Special thanks went to the Atlanta Police Department's SWAT Team.
CVI is already planning next year's Dining in the Dark event. Center officials said it will be held Sunday, Sept. 30, 2018 and they are encouraging the public to make plans to attend.
CVI is Georgia's largest comprehensive, fully accredited, private organization serving individuals of all ages and degrees of vision loss.
The center is located at 739 West Peachtree Street N.W., Atlanta. For more information, call 404-875-9011 or visit www.cviga.org.