Testingfg of Ads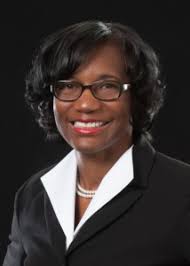 This morning, Diane Adoma qualified to run for the office of mayor in the City of Stonecrest. She announced immediately after filing her qualifying papers that she planned to challenge Georgia's Constitutional provision that she must vacate her City Council seat to run for mayor.
Adoma said she learned after the news conference that she no longer had access to City Hall as a Stonecrest City Councilmember.
"Today, I officially qualified to run for the Mayor of Stonecrest and was immediately locked out of my Council office, phone and email. I have emailed and called the clerk and city attorney for explanation and as of now no response," Adoma said in an e-mail to the media. She said she had not been contacted by city officials as of 7:50 p.m. this evening.
Adoma, who was elected to represent District 5, said she believes the state law is conflicting and unfairly requires incumbent City Councilmembers who represent odd-numbered districts to immediately vacate their seat after qualifying to run for a seat, that is not their own—in this case, the mayor's seat.
The city issued the following statement late this afternoon:
"Today, at approximately 10:30 a.m., District 5 Councilmember Diane D. Adoma qualified to run for the office of Mayor of the City of Stonecrest, Georgia.
Article II, Section II, Paragraph V of the Georgia Constitution states, "The office of any state, county, or municipal elected official shall be declared vacant upon such elected official qualifying, in a general primary or general election, or special primary or special election, for another state, county, or municipal elective office or qualifying for the House of Representatives or the Senate of the United States, if the term of the office for which such official is qualifying for begins more than 30 days prior to the expiration of such official's present term of office."
After consultation with the Secretary of State's Election Division and the city attorney, the City of Stonecrest is required to abide by and uphold the Constitution of the State of Georgia. Once a councilmember qualifies for any other elected position in this state, andtheir current term is not expiring roughly at the same time, their seat automatically becomes vacant, according to the Constitution," the city's statement from City Clerk and Elections Superintendent Megan Reid said.