Testingfg of Ads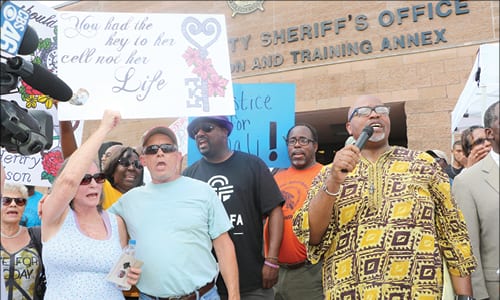 A crowd of about 200 protestors called for the resignation of Rockdale Sheriff Eric Levett and other county leaders as they rallied for justice for Shali Tilson and Jamie Henry. 
Tilson, a 22-year-old Conyers resident, died on March 12 from severe dehydration after a 9-day stay at the Rockdale County Jail on misdemeanor charges. Henry, a 40-year-old Douglasville mother who was being held for Fulton County on a warrant, died on May 26 after being locked up for about 12 hours.
Attorney Mawuli Davis, who is representing the families of the deceased, said the deaths are a result of "criminal neglect." 
Davis said Tilson lost 24 pounds while he was in custody. Henry, who had a drug problem, was screaming and pleading for help to no avail, Davis said. She was found unresponsive in her cell and pronounced dead at the hospital, Sheriff's spokesperson Yolande Lovingood-Moore said.
No information has been provided concerning the cause of Henry's death.
As protestors baked in the sweltering heat outside the Rockdale Sheriff's Office, many denounced the sheriff, saying he had failed to take action even after a GBI investigation found Tilson died as a result of "pulmonary thrombi due to dehydration." The GBI released its findings in the Tilson case on May 24.
"We wanted to come to tell Sheriff Levett: Let me be very clear because my politics is that I support those that support me. I oppose those that oppose me. Sheriff Levett, a black man, is not our friend," WAOK-1380 radio talk show host Derrick Boazman shouted. 
The rally included remarks from several organizations, including representatives of the Rockdale NAACP, the DeKalb NAACP, the State NAACP, A Black Man Never Forgets, Black Lives Matter Atlanta, National Action Movement, GRIEVE and the New Black Panther Party. A bus with demonstrators from North Carolina also attended. The crowd was  peaceful throughout the demonstration, which lasted nearly two hours. There were pastors, mothers carrying babies, men in suits and women in dresses among the protestors.
Tilson's sister, Diamond Tilson, thanked the protestors for standing with her family and Henry's family. 
"We asked everybody to come stand with us, but not only do we want you to stand with us, we want you to speak out as well about the injustices that happened to these two young people. They should still be here today…," said Diamond Tilson. "It's going to take our whole community to get things right…We've got to apply pressure and make sure these positions are filled with people that can handle these types of situations, so these things don't happen again to anybody else."
Former State Rep. Dee Dawkins-Haigler reminded the crowd that their vote is their power and she had a message for the sheriff and other Rockdale leaders:      
"…When you are elected to positions of power, there comes a responsibility and you cannot be afraid when you are elected to stand up and do the right thing. And what i have learned over the years is that a scared negro will get you killed…"
"Now, I know Eric Levett, and I'm very surprised by all of this. But he was elected by the people to do a job. You can't show up just  when you want to show up; you have to show up even when it's hard, even when you have to give an account. So I suggest you look around this place today, and the next time you go and vote for somebody, look and see if they showed up when you needed them to show up."