Testingfg of Ads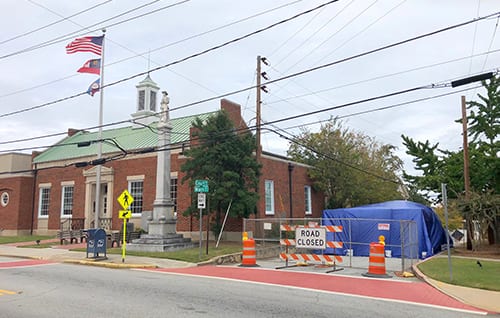 The Rockdale County Courthouse is getting a new roof. County officials say the work, which was scheduled to begin on Oct. 22, was delayed a week as workers delivered building materials and blocked off nearby streets in preparation for the demolition.  
Workers are now scheduled to begin removing the aging roof during the week of Oct. 29. Work is expected to be completed by Nov. 12. The courthouse will get an energy efficient "cool roof system," officials said.
"We are making progress in repairing and renovating Rockdale County infrastructure," said Sue Sanders, director of Rockdale County Recreation and Maintenance Department. "The new roof for the Rockdale County Courthouse is one of several energy and cost-saving projects we are managing related to county facilities."
The building's original roof was patched in the mid-1990s and has reached the end of its life, Sanders said.
The demolition of the old roof will be completed in the early morning hours and the roofing work will occur during normal business hours. The courthouse will remain open for business during the repairs. Vehicular traffic and parking will be restricted in the area of Court and Main Streets in the City of Conyers. Court Street will be closed to pedestrian and vehicular traffic from Main Street to the SunTrust entrance driveway only.