Testingfg of Ads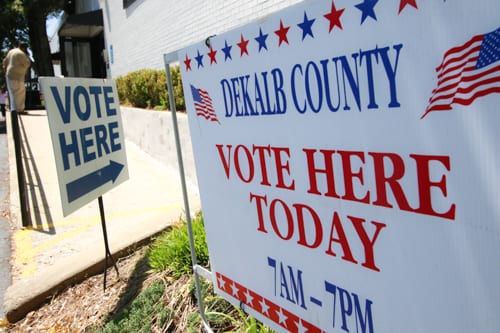 By Valerie J. Morgan
The Democratic Party of Georgia's is urging voters to cast their ballots in person during the early voting period, after learning that thousands of voters—4,700 of them in DeKalb County—never received absentee ballots they requested. The early voting period started Oct. 15 and ends Nov. 2.
Rebecca DeHart, executive director for the Democratic Party of Georgia, said the DeKalb Board of Registration & Elections never mailed absentee ballots to an estimated 4,700 applicants who requested them—some of them as early as September. DeHart said the Party tracked a mailer that was sent to voters who requested absentee ballots  and discovered county registrars never fulfilled the requests. 
"People have been calling the hotline saying they never received the absentee ballots. We're not sure what happened," DeHart said. "We're being proactive and getting the word out to tell them to early vote. We're also calling people who are on the list as backup to what DeKalb elections officials are doing."
Sam Tillman, chairman of the DeKalb County Board of Voter Registration and Elections, issued a statement refuting the Party's claims:
"DeKalb County Board of Voter Registration and Elections is in receipt of a list, provided by the Democratic Party of Georgia, of approximately 4,700 registered voters that the Party claims requested absentee ballot forms via a mailer sent out by the Party.
After reviewing the list of names, there is evidence that the county received 48 of those voter absentee ballot request forms. All 48 of those forms have been processed. At this time, there is no evidence that there are any missing or lost absentee ballot request forms," Tillman said. "The Elections Department receives request forms daily and processes them within three days of receipt. At this time there are approximately 250 forms pending processing."
Erica Hamilton, DeKalb's director of Elections, could not be reached for comment, despite messages left at her office. 
However, Hamilton told Tillman and the board of elections at the Oct. 11 meeting that her office has been deluged with new voter registrations and absentee ballot requests. Hamilton said that her office had received approximately 40,000 voter registration applications to process and approximately 4,268 absentee ballots that needed to be mailed. She said the office had received about 500 absentee applications per day, according to the board's minutes from the meeting.
Political observers credit Georgia's heated governor's race for the surge in early voting and absentee ballots.   According to WSB-TV, to the GeorgiaVotes.com website, which compiles data made available by the Georgia Secretary of State's Office, 41.9% of all absentee ballot requests are coming from African-American voters, while 44.7% are coming from white voters. 
DeHart said Congressman Hank Johnson has produced a public service announcement on behalf of the Democratic Party encouraging those who have not received an absentee ballot to cast their ballots in person or call the hotline for assistance, if they still need an absentee ballot. The announcement can be viewed at the Party's Facebook page: https://www.facebook.com/georgiademocrat/videos/2194178737524464/
The Democratic Party of Georgia also is encouraging anyone who needs a ride to the polls or has any other voting issue during the elections to call the Party's hotline: 1-888-730-5816.