Testingfg of Ads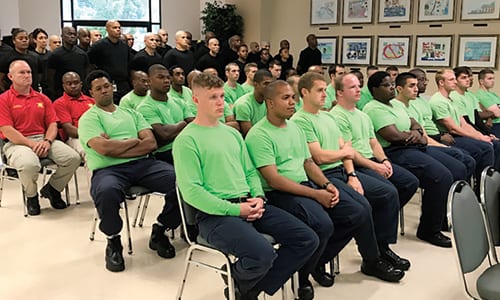 DeKalb County Public Safety Director Jack Lumpkin said that staffing levels in police, fire and 911 have increased.
For the first time in five years, the county's 911 emergency center will be fully staffed with 126 employees in October. Additionally, more than 90 police and fire recruits are scheduled to graduate by February 2019.
 "Under the leadership of CEO Michael Thurmond, we are hiring more character-based individuals and reducing the attrition rates in our police, 911 and fire rescue departments," Lumpkin said during the Sept. 4 DeKalb Board of Commissioners Committee of the Whole meeting on 
DeKalb County CEO Michael Thurmond said the county's significant investments in recruitment, retention and compensation have helped the county to overcome staffing challenges and relieve critical public safety shortages.
Thurmond's approved Fiscal Year 2018 budget included $7.9 million to fund 155 sworn police positions, revamp public safety recruitment efforts and enhance hiring processes. The administration's budget also adopted a more competitive salary structure for DeKalb County employees including public safety staff and provided a 3 percent increase.
On Friday, Sept. 7, the DeKalb County Police Department will host 113th Police graduation class and welcome 14 new officers.