Testingfg of Ads
 A crowd of dignitaries, family and supporters attended the Dec. 19 joint swearing-in and induction ceremonies for DeKalb County's District Attorney Sherry Boston and Solicitor-General Donna Coleman-Stribling. The two women were sworn in at the historic Saint Philip AME Church in Atlanta, where the church's pastor, Dr. William D. Watley, welcomed those in attendance.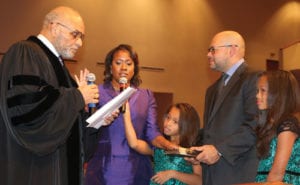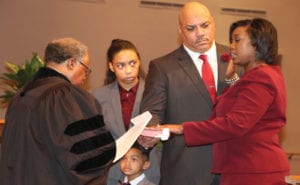 Boston and Coleman-Stribling secured their victories during the Nov. 8 General Election after defeating their respective opponents in the May Primary. Boston previously served as the DeKalb County Solicitor-General, a position she held since 2011. During her tenure, Boston was instrumental in the development of DeKalb County's new Traffic Division and also implemented a wide variety of innovative programming and strategies for community outreach and crime prevention.
At the swearing-in, Boston was introduced by former DeKalb County District Attorney Robert Wilson, who discussed how hard he challenged her in considering her bid for office. Boston was sworn in by the Honorable Judge Herbert E. Phipps, retired presiding judge of the Court of Appeals of Georgia.
Prior to her election, Coleman-Stribling served as Deputy Chief Assistant District Attorney assigned to the Crimes Against Children Unit in the DeKalb County District Attorney's Office. In this role, Coleman-Stribling managed the prosecution of child sexual and physical abuse crimes. She also implemented abuse investigation protocol and served as a liaison for local law enforcement agencies.
Before she was sworn in, Coleman-Stribling was introduced by her father, Dr. Thomas Coleman, who became emotional as he spoke with pride of the great leader she had become. The Honorable Justice Robert Benham of the Supreme Court of Georgia administered the oath of office to Coleman-Stribling.
In her remarks following the swearing-in ceremony, Boston promised a "new day in DeKalb County," saying she looks forward to serving.
During Stribling-Coleman's remarks, she pledged to make DeKalb a better place, stressing the importance of investing in the county. "We have to invest in the county where we live,"
Boston and Coleman-Stribling officially assume office on Jan. 1. Each will serve a four-year term.