Testingfg of Ads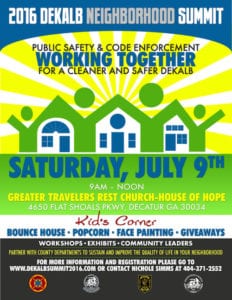 DECATUR – DeKalb County's public safety director will discuss community-oriented policing during a workshop during the seventh annual DeKalb Neighborhood Summit which has a theme of "Working Together for a Cleaner and Safer DeKalb."
Dr. Cedric Alexander, DeKalb's deputy chief operating officer for public safety, will participate in a panel discussion and a workshop during the event on Saturday, July 9, 9 a.m. to 1 p.m., at Greater Travelers Rest Church—House of Hope, 4650 Flat Shoals Parkway, Decatur, GA 30034. Breakfast will be served from 8:30 a.m. to 9 a.m.
"We are fortunate to have a nationally-recognized law enforcement expert at the helm of our public safety department," said DeKalb County Interim CEO Lee May. "Dr. Alexander's wisdom has been invaluable as DeKalb County stays ahead of the challenges faced by communities and law enforcement agencies around the country."
More than 400 people have already preregistered for during which DeKalb residents can meet various government representatives and learn about services that can improve their neighborhoods and quality of life.
Interim CEO May will participate in a panel discussion and question-and-answer session on the summit's theme along with Dr. Alexander, Fire Chief Darnell Fullum and code enforcement director Marcus Kellum.
 The summit is for constituents and homeowner associations interested in obtaining details on DeKalb County operations and projects, as well as obtaining direct contacts for various county agencies, departments and resources.
Attendees will have the opportunity to attend workshops, visit exhibitor stations, meet with community leaders, exchange ideas and learn how to partner with county departments to better their neighborhoods.
 New this year, the summit will feature a kids' corner with a bounce house, face painting, giveaways, and popcorn. Additionally, various law enforcement vehicles will be on display for youth.
Exhibitors will include representatives from various county departments, divisions and offices such as community development, clerk of Superior Court, fire and police departments, animal control, sanitation, Board of Commissioners, parks and recreation, Keep DeKalb Beautiful, planning and sustainability, traffic engineering, district attorney's office, solicitor-general's office, economic development, workforce development, code enforcement, watershed, sheriff's office and medical examiner's office.
Workshop topics will include:
Community Oriented Policing
All Things Code Enforcement
Public Safety Hot Topics
Reduce, Repurpose, Recycle
"Battle the Bug" – Zika Virus Prevention
Understanding Your Water Bill
Community Capacity Development
Foreclosure and Vacant Property
Potholes, Roads & Rating
Understanding the Language of Today's Youth
SPLOST
From Barriers to Beauty
For updates and to register for the 2016 DeKalb Neighborhood Summit, visit www.dekalbsummit2016.com.