Testingfg of Ads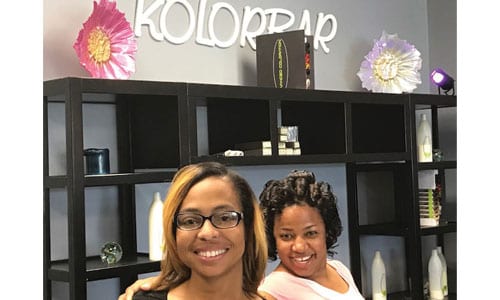 Suite 20 Xpress, the brainchild of platform stylist Kristy Gaiters to provide affordable healthy hair in the booming Atlanta hair industry, is celebrating its 10-year anniversary this month in the South DeKalb community.
The salon, located at 5561 Memorial Drive, Stone Mountain, is not only known for providing quality hairdos at affordable prices but for honoring community leaders at its annual International Trailblazers Awards.
"We are excited about our 10-year celebration and the International Trailblazers Awards. It is our honor to pay tribute to those who have given to our communities," said Gaiters, who grew her business from humble beginnings.
Gaiters was doing hair in the basement of her home in February of 2007 when a young girl wanted a new hairstyle for prom but could not afford it. Gaiters did the service as a prom gift and the girl went to her prom with her new hairdo after they both shed a few tears. That was the defining moment for Gaiters.
With the help of family and friends, Gaiters decided to buck the trend of $35 to $40 roller wetsets in Atlanta and follow the trend in her native North Carolina where hair stylists were practicing healthy hair techniques but only charging $10 for the same roller wetsets. Plenty of people in the industry tried to persuade her not to do it, saying she was selling her skill short, Gaiters followed what God had put in her heart: She opened Suite 20 Salon at 1999 Candler Road in Decatur doing roller sets, flat wraps and doobie wraps for $10. Clients were in and out of the salon in last than two hours. Business boomed and Gaiters was servicing 700 clients a week with a staff of 12 stylists. She built a reputation   at Atlanta hair shows as a platform stylist for her work on stage before live audiences.
By April 2010, she needed more space and moved Suite 20 Salon to Flat Shoals Parkway in Decatur. The move came at a cost. The Flat Shoals property was not on the bus line and she lost many of the clients who needed her—those on fixed incomes who depended on public transportation.
After 7 years on Flat Shoals Parkway, Gaiters moved the salon back on the bus line, re-opening at 5561 C- Memorial Drive with the name Suite 20 Xpress.
Today, her mission is the same: to provide healthy hair services at affordable prices without the long wait of regular salons.
Suite 20 Xpress will celebrate its anniversary on July 8, 1 to 4 p.m., at 5561 Memorial Drive, Stone Mountain. There will be food, jumpers for the kids, games, music and discounts on hair services.
The 9th Annual International Trailblazers Awards will be held Sunday, July 16, 5:30 p.m., at the Porter Sanford III Performing Arts Center, 3181 Rainbow Drive, Decatur. The red carpet is at 5:30 p.m. There will be performances by LaShun Pace and Tony Terry. Honorees include Atlanta Mayor Kasim Reed; Tampa Bay Bucs Brent Grimes; Journalist Ken Watts; DeKalb County Judge Gregory A. Adams; Actor Lamman Rucker; Pastor Michael Benton of Fairfield Baptist Church; Apostle Tim Atunnise; Junior Chef Lauryn Strong; Atlanta Voice Publisher J.L. Ware; and Col. Bill Cunningham. Tickets are $60 and available at Eventbrite. For more information, call 404-913-9798.