Testingfg of Ads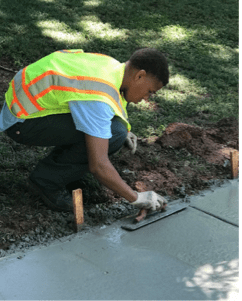 A youth helps to repair a sidewalk during last year's
DeKalb Works Summer Youth Employment Program.
Officials say 400 youths will be hired for summer jobs through the 2019 DeKalb Works Summer Youth Employment Program. More than 2,700 youths applied for the positions.
The program, in its third year, has provided approximately 1,100 jobs for DeKalb residents ages 14-24.
"We are pleased with the overwhelming response to this youth employment and empowerment program," said DeKalb County CEO Michael Thurmond. "In addition to receiving a paycheck, these youth are being introduced to job skills and a work ethic that will benefit them as they progress through life."
Thurmond and the DeKalb County Board of Commissioners have partnered since 2017 with WorkSource DeKalb to allocate funds to the DeKalb Works Summer Youth Employment Program.
Internships in the program also are funded by the federal Workforce Innovation and Opportunity Act.
The program, which this year runs from June 3 through July 25, pays DeKalb residents $10 per hour, a $1 per hour increase from 2018.
In addition to work experience, participants receive soft-skills training, in which they learn about punctuality, conflict resolution, presentation and other important job skills.
This year, 116 private employers, such as Ricoh, Allstate Insurance, Datum Tech, Grady Health Systems, Wade Walker YMCA and Clarkston Community Center are providing internship opportunities.
Among the 109 public partners are the county's Board of Commissioners, tax commissioner, district attorney, sheriff, solicitor-general, clerk of Superior Court, CEO, DeKalb County School District and various county government departments.
As a part of the DeKalb Works program, WorkSource DeKalb provides interns training prior to the start of work assignments and covers all intern payroll and workers' compensation.
For more information about employment opportunities for all ages, visit www.worksourcedekalb.org or call 404-687-3400.