Testingfg of Ads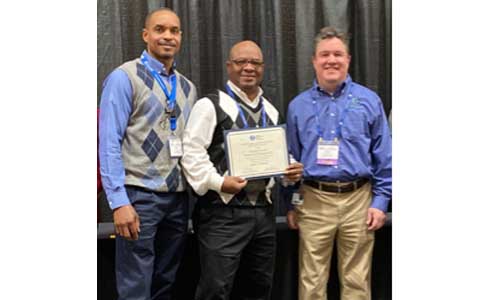 Pictured from left: DeKalb County Department of Watershed Management's David Hayes, Willie Horton and Darren Eastall accepted the 2019 Collection Systems Gold Award on behalf of the county.
The DeKalb County Department of Watershed Management(DWM) was recently recognized with a top award for outstanding wastewater collection system operations.
"After many years of mismanagement and dysfunction, this award is evidence that the DeKalb County Watershed Management Departmenthas made verifiable progress and improvement," said DeKalb County CEO Michael Thurmond. "DeKalb has prioritized enhancing customer service, properly treating wastewater to protect the environment and ensuring the viability and integrity of the system."
DWM was awarded the 2019 Collection Systems Gold Award at the Georgia Association of Water Professionals (GAWP) Fall Conference for operating the wastewater system in an outstanding manner. GAWP is Georgia's largest professional water and wastewater organization and recognizes organizations that take exceptional efforts to properly manage, operate and maintain collection systems.
The GAWP award recognizes utilities that strive to continually improve their systems through proper management, maintenance, and operation. The award criteria follow the practices set forth in the DeKalb County Capacity, Management, Operation and Maintenance program including preventative maintenance, system evaluation, rehabilitation programs and training, among many others.
DeKalb County annually processes, treats and releases 12 billion gallons of clean water into the South River through two wastewater treatment plants, Snapfinger and Pole Bridge. The plants have also been recognized by GAWP for 100 percent compliance with pollutant removal levels set by the United States Environmental Protection Agency and the Georgia Environmental Protection Division.
For more information about DWM, visit www.dekalbwatershed.com.