Testingfg of Ads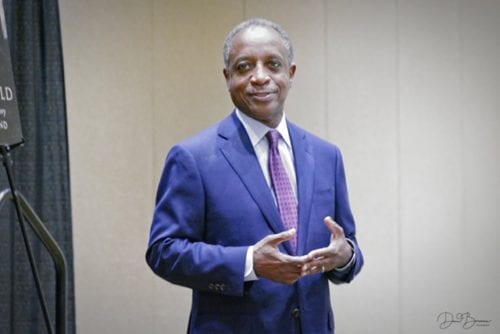 In a low voter turnout, DeKalb County rejected a referendum restructuring the county's ethics board with 33,555 voters (61.33 percent).  The measure received 21,160 yes votes (38.67
percent).
Countywide, only 10.97 percent (56,412) of DeKalb's 516,412 registered voters participated in the Nov. 5 elections, which included municipal races and the one referendum question on the ballot, officials reported.
DeKalb CEO Michael Thurmond said state lawmakers in the House and Senate must work together to resolve the issue, saying the "current state of affairs is unacceptable."
"The DeKalb voters have spoken. The focus now shifts back to the General Assembly where the legislative process begins anew. DeKalb's State House and Senate delegations must craft legislation that can earn the support of a majority of each delegation, pass the General Assembly, receive the governor's signature and then be resubmitted to the voters," Thurmond said in a statement issued on Nov. 6.
"DeKalb needs a strong ethics board. The current board was rendered dormant when the Supreme Court upheld the decision that the board's appointment process was unconstitutional. Until the legislature cures the flaws in the current legislation, we are in the untenable position of operating without an ethics board.
"This current state of affairs is unacceptable."
The referendum question on the ballot was worded for a yes or no response from voters: "Shall the Act be approved which revises the Board of Ethics for DeKalb County?"
A number of voters, however, were unfamiliar with the proposal and the debate on the issue during the weeks leading up to the referendum vote.
Proponents said the referendum was needed to change the makeup of the board to more fairly reflect the diversity of the community. Their assertion was bolstered
by a 2018 Georgia Supreme Court ruling that found the makeup of the seven-member board was unconstitutional. The referendum also sought to replace the ethics officer position with an administrative position and reduce some of the board's powers—changes critics argued would have weakened the ethics board.
Amos King, who alleged in a 2017 complaint that DeKalb Ethics Officer Stacey Kalberman violated state ethics laws by lobbying legislators without a state license, said he was disturbed by the referendum results.
"The Supreme Court s ruling dismantled the board but she (Kalberman) is still drawing a paycheck. County officials are saying only the board can fire her. There is no board. This is a waste of taxpayers' dollars," King said. "Citizens should be outraged."
DeKalb members of the General Assembly are expected to re-examine the ethics board issue during the 2020 Legislative Session and make revisions.
"Based on the outcome of Tuesday's referendum, it is clear the DeKalb County delegation still has work to do to produce a reasonable solution to ethics reform in our county," said State Sen. Emanuel Jones (D-Decatur). "Doing nothing is not an option, as the Georgia Supreme Court has already ruled that changes to the DeKalb Board of Ethics must take place. Specifically, the current composition of the Board was ruled to be unconstitutional and a referendum updating the membership of the Board must be adopted in order for the Board to actively investigate ethics complaints. Therefore, the Joint Senate and House DeKalb County delegation will appoint a taskforce whose goal will be to gather information and provide recommendations on legislation to be introduced in the 2020 Legislative Session. I am committed to working with the Co-Chair of the Joint Senate and House DeKalb County delegation Rep. Karla Drenner (D – Avondale Estates), along with all other delegation members and stakeholders in our community to produce meaningful legislation that will enhance DeKalb County's ethics procedures."