Testingfg of Ads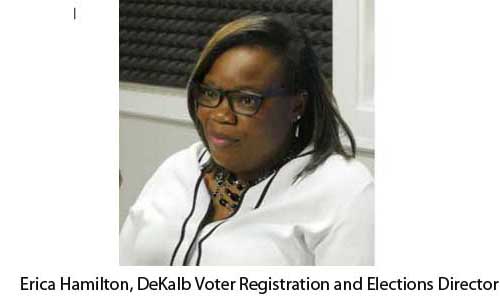 DECATUR.—DeKalb Voter Registration and Elections (DeKalb VRE) is ready for what is slated to be a historic runoff on Jan. 5, when voters will decide two U.S. Senate seats from Georgia and the Georgia Public Service commissioner.
"It's been a successful few months of elections for DeKalb County and we are prepared for the Jan. 5 runoff," said DeKalb VRE Director Erica Hamilton. "Our team continues to work tirelessly to ensure every voter has the opportunity to cast a ballot and we will apply that same dedication as we safely and accurately count each and every vote."
The Jan. 5 runoff culminates a busy election season that not only included a monumental presidential election, but a state-mandated hand count risk-limiting audit and a recount.
"With the turnout we've already seen during advance voting and absentee voting, Tuesday is shaping up to be another historic election in Georgia," Hamilton said.
"Voters still have two options to cast their ballots–in-person at their designated precinct on Election Day, or voters with absentee ballots can use our official drop boxes before 7 p.m. on Election Day," Hamilton said. "You still have time to make a plan to vote."
Jan. 5 Runoff At-A-Glance:
A full list of DeKalb County precincts can be found here.
A list of drop boxes in DeKalb County can be accessed here.
Click hereto access voter information and sample ballots translated in Spanish and Korean.
A limited-seating viewing area will be available on Election Night at the DeKalb VRE located at 4380 Memorial Drive in Decatur. Masks are required.
DCTV's livestream of the counting/scanning process can be viewed here on Election Day beginning at 7 p.m.