Testingfg of Ads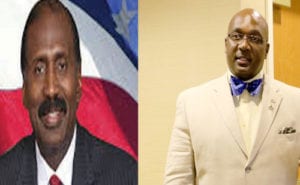 A runoff will be held on Dec. 6 in the special election for Commission District 7. Gregory Adams and Randal Mangham are in the race.
Candidate Diane Adoma is contesting the race and has asked for a recount. Adoma who garnered 15.39 percent of the vote, during the Nov. 8 election, was within a one percent margin of Mangham, who qualified for the District 7 runoff with 16.27 percent.
Early voting will begin on Monday, Nov. 28, and continue through Friday, Dec. 2. All early voting will be held at the main office of the Voter Registration and Elections office located at 4380 Memorial Drive, Suite 300, in Decatur. Voting hours are 8 a.m. to 5 p.m. All voters should enter the advance voting site through the side entrance of the Registration and Elections office since there will be only one voting room for this election.
Ballots will be automatically mailed to voters over 65 or individuals who are disabled, if they so designated that status on their applications for the Nov. 8 election. Other voters in the district who wish to receive a mailed absentee ballot must submit an application no later than 4 p.m. on Dec. 2. Signed applications may be faxed to 404-298-4038 or emailed to voterreg@dekalbcountyga.gov.