Testingfg of Ads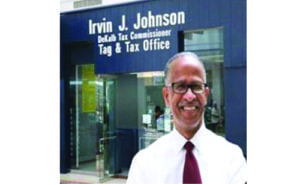 By Valerie J. Morgan
DeKalb County Tax Commissioner Irvin J. Johnson has filed a lawsuit asking the court to stop the May 24 special election to fill the unexpired term of the tax commissioner's seat, On Common Ground News has learned.
Johnson alleges in the suit, filed on Thursday in the Superior Court of DeKalb, that the ballot unconstitutionally strips him of his title as the "incumbent" in the race.
Currently, Johnson, a Democrat, is identified on the ballot by his name, the same as his two Democratic challengers: Susannah Scott and Stan Watson.
Johnson, who was serving as chief deputy tax commissioner, became tax commissioner in January after Claudia Lawson resigned. The lawsuit states that Georgia law provides that upon the resignation or removal of a sitting tax commissioner of any county with 550,000 residents, the person appointed as chief deputy by the tax commissioner shall succeed to the office of tax commissioner and fill the unexpired term of the tax commissioner (O.C.G.A. 48-5-128).
Johnson's suit states that an unconstitutional local law in effect, however, creates the position of an interim tax commissioner, "the likes of which is not found anywhere in either the Georgia Constitution or any Georgia law, and which strips the current Tax Commissioner of his title and position as the incumbent in the next election." The Georgia law, the suit states, provides a procedure for the succession of a county's Tax Commissioner is preempted by the local, DeKalb County law.
The suit asks that the court restrain from holding a special election on May 24 until the court may determine the constitutionality of local law Ga. L. 2008, p. 3856.
Story developing.