Testingfg of Ads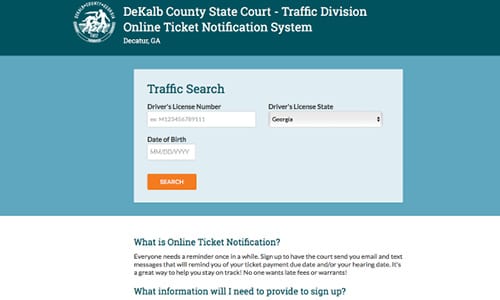 Motorists receiving a traffic citation in unincorporated DeKalb County now can sign up to receive text and email notifications of fines and upcoming court dates. 
The system also will send notifications if a court date in the Traffic Division of DeKalb County State Court is missed, and inform the motorist of an option to immediately correct their default with the court before sanctions are imposed.
Drivers can access the court's notification system using smartphones, tablets or computers. They can also research how much they may owe in fines and costs. Anyone can opt-in to this program at www.courtinnovations.com/GADCSC. 
"People expect more today from the courts, and our new 24/7 online ticket notification system is delivering on our promise of fair and efficient justice," Presiding Judge Shondeana Morris said. "Now motorists can feel at ease that the court is being proactive by reminding them of details about their case, any fines and costs owed, and important due dates."
The service, Matterhorn by Court Innovations integrated with Benchmark by Pioneer, allows individuals to search online for their citations, and opt-in to receive notifications and reminders via text messages and email. 
After opting-in, motorists will receive electronic messages on their case status. 
DeKalb's judicial system is taking a big step forward by adopting this technology," said Chief Judge Wayne Purdom. "Research shows that when courts adopt new technology like opt-in text messaging, the time for a case to be resolved drops dramatically, and customer satisfaction with the courts improves significantly. Further, this helps us have the punishment fit the actual crime, and not add to the burden because of citizen oversight or poor scheduling habits."
 With this enhanced functionality, the court will be able to handle many types of high-volume infractions completely online, saving time and money for the public and the court. Rather than limiting judicial or law enforcement discretion, this technology enhancement will give decision-makers the ability to resolve cases more equitably and rapidly. Its round-the-clock access and education component also empowers defendants to work with the court to resolve minor violations informally and conveniently.
Electronic notification of court dates for people arrested and released on bond in more serious misdemeanor cases is planned for later this year.
About Matterhorn
Court Innovations is based in Ann Arbor, Michigan. Its product, Matterhorn, allows courts to handle many high-volume infractions completely online, saving citizens and courts time and money. Matterhorn is in over 45 courts in eight states. 
About Pioneer
Pioneer Technology Group (Pioneer), headquartered in Sanford, Florida, is a leading developer of software solutions and services to governments and the private sector. The company is headquartered in Sanford, Florida.. Offerings include: Benchmark, a court