Testingfg of Ads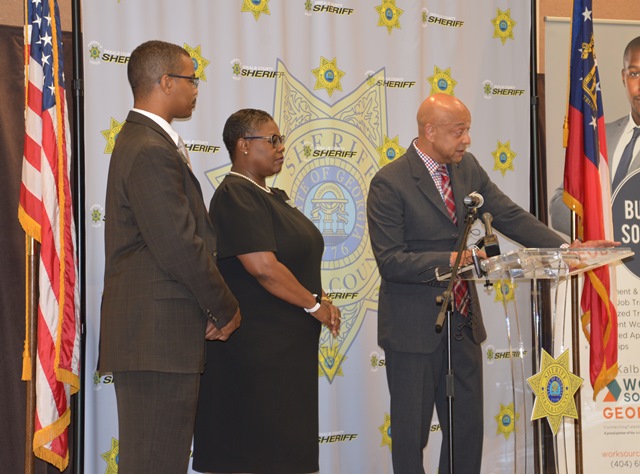 (L-R) GPTC President Tavarez Holston; Theresa Austin-Gibbons, Director of WorkSource DeKalb; and, DeKalb County Sheriff Jeffrey L. Mann announced a partnership that helps DeKalb Jail inmates earn college-level certification as welders so they can find employment after release.  Photo provided by DeKalb County Sheriff's Office.
Nine DeKalb County Jail inmates are training to become welders through a pilot program launched by the Sheriff's Office, WorkSource DeKalb, Georgia Piedmont Technical College (GPTC) and the Technical College System of Georgia (TCSG).
Seven males and two female inmates are participating in the welding program, which is being held at GPTC's Decatur campus. The inmates began classes on Aug. 19 and will complete the program in two semesters—roughly eight months. They will be certified as welders and receive assistance from program partners in helping them to find jobs when they are released from jail.
DeKalb County Sheriff Jeffrey L. Mann announced the program at a news conference on Aug. 28, saying he hopes to reduce criminal recidivism in DeKalb by facilitating career paths for inmates upon release.
"Apparently, the welding industry is experiencing a serious shortage of trained, certified welders," Mann said. "Some 400,000 jobs as career professionals at up to $35 per hour are available nationwide for men and women who meet the requirements."
The program was presented to inmates who have been ordered to serve sentences up to 24 months at the DeKalb County Jail. Those who were interested received orientation to the program and a series of individual interviews by the jail program coordinator.
The approximate costs for each inmate to participate in the welding program is $3,288, which includes enrollment, books/materials, and graduation upon completion of the program. While inmate students are in custody, the DeKalb County Sheriff's Office covers their basic living costs (food, clothing, shelter) as well as transportation to and from class, class supplies, and study aids. Georgia Piedmont Technical College has waived the application and enrollment fees for participants in this program.
WorkSource DeKalb is providing funding to cover tuition costs through the Individual Training Account (ITA) Agreement with the college, along with the costs related to training and equipment within WIOA regulations.
Mann said he welcomes the program. Obtaining adequate income through meaningful, long-term employment is one of the major hurdles ex-offenders face when returning to society.
"The correlation between criminal behavior and low or no education or employable skills is dismal and well documented," said Mann. "…It can be a determining factor in a decision to re-offend."
Mann said the agency partnership is necessary to eliminate other roadblocks such as the lack of support services and the stigma of having been incarcerated.
"We are committed to seeing every citizen trained and equipped for our workforce, regardless of where they happen to be in life," said GPTC President Tavarez Holston. "It is our desire to see our graduates improve their quality of life by obtaining gainful employment. This is how we move our economy forward. We are excited to partner with the DeKalb County Sheriff's Office in this effort."
The GPTC welding curriculum includes classroom instruction as well as practical training in safety, the use of equipment, and specific job-related skills. The program is offered to "sentenced inmates" at the jail–those sentenced by a judge to serve up to 24 months in the county jail, rather than in a state prison. Participants are transported to and from the campus in secure sheriff's office vehicles by armed deputies under the same guidelines and procedures in use for our daily transport of inmates to and from DeKalb County courts. Care has been taken to avoid interaction or contact by the inmates with other students or personnel at the college, unless they are authorized program staff.
"Although this initial class is a pilot, we can change outcomes," said Mann. "We are committed to facilitating opportunities well into the future for qualified sentenced inmates at our jail. This initiative is an on-ramp for DeKalb County ex-offenders to a road that can lead to an improved quality of life. Having that advantage, we expect they will choose not to return to past behaviors, and that decision can begin to eliminate instances of recidivism in our community."