Testingfg of Ads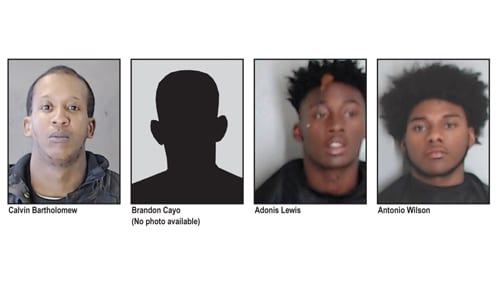 The DeKalb County Sheriff's Office Fugitive Unit arrested four suspects in connection with two murders where drug transactions are alleged to have been involved.
Calvin Joel Bartholomew, 29, of Stone Mountain, was charged with murder and possession of a firearm by a convicted felon.
Bartholomew shot Maurice Rondrell Stargell multiple times on Ember Drive in Decatur on Jan. 16, according to warrants issued on Jan. 17. The warrants allege that the two men were at that location for a drug transaction when an attempted robbery escalated into the shooting that led to Stargell's death. The arrest took place with assistance from the Atlanta Police Department at an apartment complex near Atlanta. Bartholomew was transported to the DeKalb County Jail without incident.
In a separate roundup of three other murder suspects, the DeKalb County Sheriff's Fugitive Unit arrested Antonio Wilson, 18, and Adonis Lewis, 17, both of Decatur, and Brandon Cayo of Conyers on charges of felony murder and armed robbery. Warrants issued on Jan. 23, allege that during the commission of an armed robbery, the trio shot and killed Tre Griffin on Nov. 19, 2017 on Fieldgreen Crossing in Stone Mountain.
With assistance from the DeKalb Sheriff's Office Uniformed Division, deputies arrested Wilson at a DeKalb County high school and Lewis at a Decatur residence on Jan. 24 without incident.  Cayo was arrested on Jan. 23 in Murphreesboro, Tennessee, where he is being held on local charges after attempting escape.  He will be housed at the Rutherford County Jail pending extradition.