Testingfg of Ads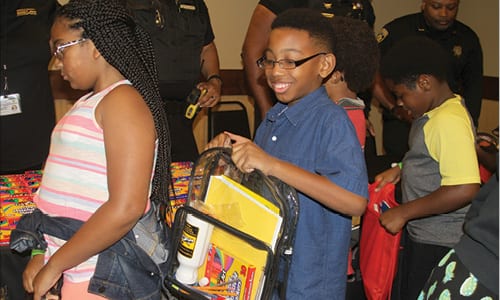 By Mackenzie N. Morgan
DeKalb County Sheriff Jeffrey L. Mann hosted the ninth annual "Community Day with the Sheriff" on July 25 at the Stars & Strikes bowling center in Stone Mountain. The event, which began in 1999 as collaboration between the DeKalb County Sheriff's Office under then-Sheriff Thomas Brown and businessman Tom Walker, Sr., owner of Suburban Lanes, was started to promote positive relationships between young people and law enforcement.
"I grew up in a small town where we knew and respected the police chief and all of the deputies. We are trying to rebuild that same mutual respect for our law enforcement officers within the community and we want our youth to know that police are not the enemy, but that they'd like to be the friend and be there for them," said Tom Walker, Sr.
The invitation-only event brought together more than 100 DeKalb County youths from various community and faith-based organizations to meet law enforcement officers in a fun setting to enjoy free bowling and pizza and to receive new backpacks and school supplies.
Lead Chaplain Curtis Crocker, Jr. from the DeKalb County Sheriff's Office concluded the event with a prayer of protection for both the students and law enforcement officers as they enter the new school year.
"When we look at the youth who are matriculating through the education system, we have to have a passion to ensure that they have opportunities for success. This particular event gives us an opportunity as a collective to pour into them by giving them the things they need for the school year," said Crocker.