Testingfg of Ads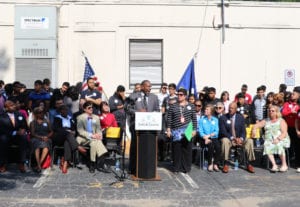 DeKalb County school leaders thanked voters for continuing the Education Special Purpose Local Option Sales Tax (E-SPLOST) to raise an estimated $500 million to fund school improvement projects in the county.
Voters approved the measure by 71 percent during the May 24 special election. The approval means the county will begin the sales tax extension in 2017 and collect money for the school district through 2022.
DeKalb Schools Superintendent Stephen Green and school leaders held a news conference at Cross Keys High School the day after voters passed E-SPLOST to celebrate the good news.
"We're ready to move forward, aggressively dealing with overcrowding here at Cross Keys, Clarkston, Dunwoody, and Lakeside, as well as addressing the condition of our older schools that need repairs," said Green, calling Cross Keys  the" epicenter of overcrowding." Some students at the school must take classes in trailers because of overcrowding.
School Board Chair Melvin Johnson said he was very thankful that voters entrusted the district to fund projects for another five years.
"We want to thank you again for this additional five years, which will total 25 years of entrusting us to spend the money making improvements," Johnson said.
Of the $500 million expected from the sales tax, $230 million will be used to build new schools and address overcrowding, Green said.
"We know in the future we are going to need middle schools and high schools," said Green, who said he is working with community stakeholders to decide on projects the will be funded from the sales tax money.