September 23, 2016
7

min
134
0
Testingfg of Ads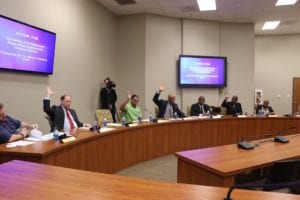 The DeKalb County School Board joined the growing list of school districts opposing Gov. Nathan Deal's proposed plan to allow the state to take over "chronically failing schools" in Georgia.
In a meeting held Monday, Sept. 19, the DeKalb school board voted against the governor's plan and issued a statement urging citizens to reject Deal's plan.
"After careful consideration, the DeKalb County Board of Education urges voters to vote NO on proposed Constitutional Amendment #1, the Opportunity School District amendment," the School Board's statement says.
"Local control of education is a bedrock American principle. We strongly believe citizens whose taxes pay for a majority of the cost of educating our children should exercise control over decisions relating to that education. We believe it is not only wrong but risky to give up local control to a new state bureaucracy."
"The board strongly believes that the answer to improved academic outcomes and achievement is in the classroom and the schoolhouse, with motivated, well-trained teachers; engaged, challenged students; and involved, supportive parents, caregivers, and communities."
Verdaillia Turner, president of the Georgia Federation of Teachers, said she is pleased the DeKalb Board of Education passed the resolution opposing the governor's plan.
"We have been asking DeKalb to make a symbolic stand by passing a resolution, and yes, I am glad that they passed it," said Turner. "There are so many crucial issues in DeKalb County. Amendment 1 is just one of them and we must defeat it. We want the DeKalb School Board to thoroughly educate the public. Voters must know that if they pass it, there is no turning back. It won't make any difference who you elect as your school board member because the governor and his appointees will be running your schools."
Meanwhile, groups are spending big bucks to get their messages out to voters.
The Committee to Keep Georgia Schools Local has spent over $700,000 on television advertising opposing Amendment 1. Opponents say that Deal's plan cuts money from local schools and makes taxpayers pay for a "whole new set of bureaucrats and an unaccountable political appointee."
Deal's allies have spent $1 million for television ads featuring state Sen. Freddie Powell Sims, an Albany lawmaker who is one of a handful of Democrats to back the plan in the Legislature.
Turner said she is not surprised that Deal's allies have cranked up their campaigns.
"He's getting money from beer companies and outside of the state," Turner said.
Turner said voters should make sure they have read and understand the question on the ballot, which reads: "Shall the Constitution of Georgia be amended to allow the state to intervene in chronically failing public schools in order to improve student performance?"
The amendment, which voters will decide on Nov. 8, would allow the state to establish a special Opportunity School District (OSD). In the governor's proposal, the amendment would authorize the state to temporarily step in to assist public schools the state has identified as "chronically failing." Chronically failing schools are defined as those scoring below 60 on the Georgia Department of Education's accountability measure, the College and Career Performance Index, for three consecutive years.
DeKalb currently has the largest number of failing schools in Georgia with 26 schools categorized as "failing," – more than any other school system in the state. DeKalb's school district is Georgia's third-largest school system with 102,000 students. In recent months, district officials said it is making strides toward improving these schools and that they will be ineligible for state takeover.
"To accomplish our goals of restoring DeKalb's national reputation for academic excellence and for providing world-class services to our students, staff, and communities, DeKalb County Schools will continue to invest in our children and our teachers," a statement issued by the board says.
"We have demonstrated our commitment over the last year by eliminating all teacher furlough days and granting multiple pay increases for our teachers and staff. We are steadfast in our commitment to improve educational outcomes for all DeKalb students as we transform our schools through rigor, relevance, and relationships. Voting NO to a state takeover of our local schools will allow DeKalb to continue its progress for all our children."
According to Public Education Matters Georgia, a public advocacy group, 32 school boards have gone on the record opposing the Opportunity School District including some high performance school systems. For an updated list of school boards in Georgia opposing Amendment 1, visit the Facebook page Public Education Matters Georgia.
Meanwhile, the State Board of Education (SBOE) announced its support of the legislation. The board unanimously passed a formal resolution in support of the Opportunity School District constitutional amendment on Sept. 22.
Gov. Nathan Deal applauded the SBOE's decision.
"I commend the members of the State Board of Education for their formal resolution in support of the Opportunity School District," said Deal. "… Students across our state have been left behind to languish in failing schools for far too long, and I believe Georgia can and must do better. By supporting the Opportunity School District, the State Board of Education is taking a stand against the failing status quo."
The creation of the Opportunity School District would authorize the state to temporarily step in to assist chronically failing public schools and the 68,000 children required by law to attend them. These are schools that have scored an "F" on standardized tests for three or more consecutive years.
"The State Board of Education is focused on one thing, and that's the education of Georgia's children," said SBOE Chairman Mike Royal.