Testingfg of Ads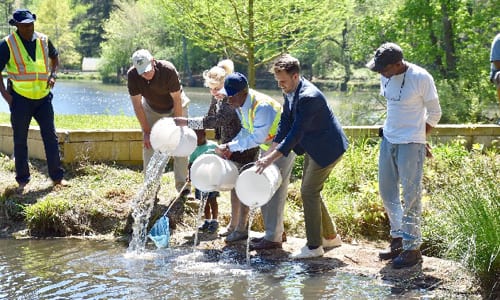 DeKalb County CEO Michael Thurmond, Department of Watershed Management and the City of Clarkston leaders restocked Crystal Pond in Clarkston with more than 1,600 fish today (April 18).
Thurmond committed to fully restocking the pond after a Feb. 18 sewer spill, caused by a blockage of grease, disposable diapers and wipes, resulted in fish loss.
Immediately after the incident, the county began a 28-day restoration project that included cleaning nearby sewer mains, removing debris and water testing. The county will continue proactive efforts in this location to prevent future spills, including routine sewer main cleanings every three months and thorough assessments to make needed infrastructure repairs in six months.