Testingfg of Ads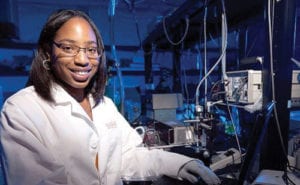 By Mackenzie N. Morgan
Whitney Ingram, 27, is among an elite group of scholars involved in Physics, the branch of science concerned with matter and energy. In December, the DeKalb County resident (a member of the Stephenson High School class of 2007) will make history as the first black female to graduate from the University of Georgia with a Doctor of Philosophy in Physics. To date, there are 89 black female PhD physicists in the country – living and dead.
"I'm honored to be the first at UGA and I'm so happy that I can reach and inspire others," said Ingram.
At the urging of her mother, Ingram contacted the outreach and diversity office to verify if she was the first African American student to obtain a PhD in Physics at the school. She said the Office of Institutional Research confirmed Ingram was in fact the Department of Physics and Astronomy's first black female doctoral candidate.
"It didn't really register. I think I was thinking too small and making it much smaller than it was, but I'm just doing what I love," said Ingram.
UGA, located in Athens, Georgia, admitted its first black students in 1961 after a federal court order mandated the school to integrate its classrooms.
"Being black is one thing. But women and even Americans are minorities in the field of physics said Ingram."
Ingram said she hopes more women will consider studying physics.
"I'm basically an anomaly. I'm the first, but I don't want to be the last. Now that I think about it, I don't see any black females coming up under me and none of my teachers were black or even American. I want females to be inspired to do this," Ingram said.
Ingram said she first gained an interest in the sciences in elementary school where she participated in a number of science fair competitions throughout the region.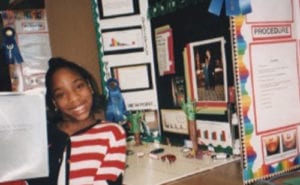 "Around third or fourth grade, I read a National Geographic article about the sun exploding and engulfing the Earth. Though that event was at least another billion years away, that did terrify me a lot," Ingram said.
Fixated on the fate of the planet, Ingram's interest in science was ignited.
In high school, Ingram was one of three students enrolled in Advanced Placement Physics.
"I really liked my high school physics teacher Mr. Billinghurst's approach to the subject and I found it fun and easy to understand," Ingram said.
Ingram later learned that her high school teacher deferred retirement for a year to serve as her mentor so she could compete in the Science Olympiad, a national competition in which students compete in various scientific disciplines.
"My parents have also been a big influence on my childhood. They tell me they are so proud of me all of the time. Their presence and support has definitely been helpful," Ingram said.
Ingram was born premature, weighing just a little over a pound, and her parents wondered if she would survive, let alone have the mental aptitude comparable to her peers.
"I wasn't the smartest kid. It took me a lot longer to understand things. Every summer, I had to do these workbooks my mom would get and I had to complete them if I wanted to go outside," said Ingram.
As a youth, Ingram enjoyed playing outside and doing at-home science projects.
"Science projects were like arts and crafts to me. I feel like science is art," said Ingram. "It just never felt weird. I always liked what I liked even though it was not popular. It's something fun about building things and knowing what you're doing has a purpose."
Ingram said that though she enjoys physics, it is challenging and very competitive.
"It is difficult. If anybody could do it, they would," she said. "You don't hear a lot about the late nights spent trying to solve a problem or meet a publication deadline. That comes from passion, patience and persistence. Not only is it pressure to graduate, but at this level of research, it's a business. In order to get funding, you need to complete projects."
Ingram's interest lies in a specialized field of physics called "nanotechnology." Because of the vast potential of applications, governments have invested billions of dollars in nanotechnology research. Currently, Ingram is part of a research team at UGA that is exploring the use of devices called nanomotors to control the direction of potentially fatal blood clots to assist doctors in the removal of clots that are in inoperable places.
Last year, Ingram was nominated by her lead professor, Dr. Zhao, to represent the U.S. delegation at the annual Nobel Laureate Conference in Lindau, Germany.
"It's not everyday that you get to meet Nobel Laureates. It's intimidating and inspirational. I remember having a conversation with one of the laureates and he lost me, but it was one of the best experiences of my life."
Ingram says she is applying for jobs and plans to enter the workforce upon graduation. Her dream job is working for the Department of Defense and to eventually teach at the collegiate level. In her spare time, Ingram enjoys attending church services, volunteering, hanging out with friends, traveling and going to movies when she has the time.