Testingfg of Ads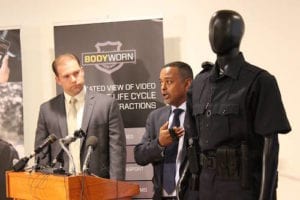 DeKalb County Police officers soon will be equipped with state-of-the-art body cameras.
The DeKalb Board of Commissioners has awarded a $737,724 contract to Utility Associates of Decatur to purchase 600 BodyWorn wearable body cameras to outfit the entire uniform division. Officials showed off the new gear during a July 20 news conference.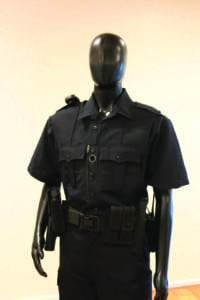 "The purchase of this technology will benefit both police officers and the public by providing an added layer of transparency and accountability," said DeKalb County Interim CEO Lee May. "This is another important investment in community-oriented policing by using technology to aid in building trust and mutual respect between law enforcement and those they are sworn to protect."
According to a report by President Barack Obama's 21st Century Task Force on Policing—co-written by Cedric Alexander, DeKalb's chief operating officer for public safety—an increasing number of law enforcement agencies are using body cameras "as a means to improve evidence collection, to strengthen officer performance and accountability, and to enhance agency transparency."
"By documenting encounters between police and the public, body wearable cameras can also be used to investigate and resolve complaints about officer-involved incidents," the report states.
DeKalb County Police Department's comprehensive body camera system will be used to record interaction with the public as they happen, providing law enforcement officials the ability to determine timelines and circumstances of potentially every police encounter.
The BodyWorn cameras can be automatically activated by central dispatch personnel, various sensors in the patrol vehicle, and when an officer is down. The devices also can be activated manually.
According to the police department's new policy on body cameras:
Whenever possible, officers will notify citizens that they are being recorded.
Recordings considered evidence for criminal proceedings will be retained until final disposition of the case.
Recordings considered to be valuable for complaints and/or training purposes will be saved for six months.
The cameras only can be used during law enforcement duties.
Funding for the police body cameras was first recommended in Interim CEO May's 2015 midyear budget recommendation, in the amount of $1 million for the first phase of cameras. There were six proposals, and the top three were evaluated by the police officers who would be using them.
In a second phase of equipping officers with body cameras, the county plans to purchase more cameras, but will largely focus on increased storage capacity for video.
The police department expects to receive the cameras in early fall.
"We call DeKalb County home and we are honored to announce that the DeKalb County Police Department will be deploying BodyWorn™," said Robert McKeeman, CEO of Utility Associates, the supplier of the cameras.
"There have been too many times that manually-operated, clip-on body cameras have failed to record video necessary for transparency and the context the public—and 21st century policing —demands," McKeeman said. "It is our mission to provide police departments with Generation 2 technology that ensures video never gets compromised or lost by implementing automatic, policy-based recording and Smart Upload. An officer wearing a body camera but not actually recording usable video of an incident damages public trust and is worse than having no body camera at all.
"We are dedicated to developing technology that ensures that is never the case," McKeeman said. "I am a proud graduate of Southwest DeKalb High School, and no one is more committed to body camera success for DeKalb County than I am."
DeKalb Police began testing body cameras in 2013.