Testingfg of Ads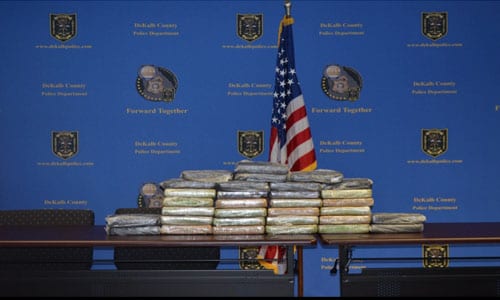 The DeKalb County HIDTA Unit seized 32 kilograms of cocaine worth an estimated street value of $3.5 million on Monday during a sting: "Operation Keep On Trucking."
The unit worked a package interdiction operation in the area of Moreland Avenue and Interstate 285. The HIDTA Unit, along with DeKalb Police K9 teams, walked through the dock area and sniffed packages and freight.
During the open-air sniff, DeKalb K9 Argo was alerted to the odor of a controlled substance on a pallet of cardboard boxes. K9 Argo continued to check more freight and discovered another pallet with the odor of narcotics in it.
Search warrants were obtained and 20 kilograms of cocaine were discovered in the first box and 12 kilograms of cocaine were in the second package.
DeKalb Police spokesperson Michaela Vincent said no further details were available and the investigation is continuing.