Testingfg of Ads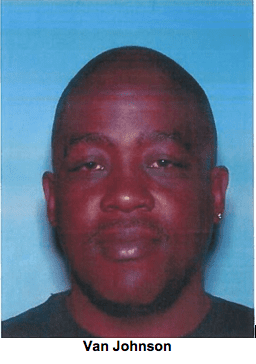 The DeKalb County Police Department is requesting assistance in locating a suspect wanted for felony murder and aggravated assault.
The suspect has been identified as 46-year-old Van Johnson. He is 6 feet 1 inch tall and weighs and 235 lbs. Johnson may have sustained injuries during this incident and may be seeking medical attention.
On Monday, Aug. 27, 2018, at 10 p.m. at 5038 Covington Hwy., police said the suspect saw a male driving away with the suspect's vehicle. The suspect allegedly fired several shots into the vehicle as it was being driven away.
The male subsequently struck a tree while fleeing the scene and was killed upon impact, according to police.
Anyone with information about the whereabouts of Johnson is urged to notify the DeKalb County Police Department at 770-724-7850.