Testingfg of Ads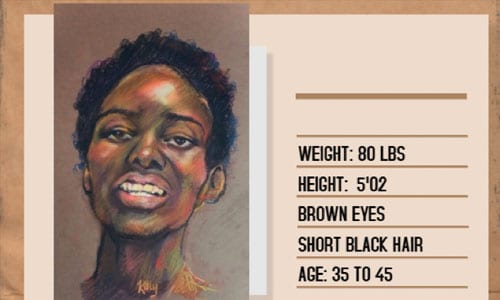 The DeKalb County Medical Examiner's Office and the DeKalb County Police Department are investigating the death of an unidentified black female whose body was discovered last month in city of Stonecrest.
On March 22, 2020, a DeKalb citizen discovered the body near the intersection of Rockland Road and Plunkett Road. Investigators have not been able to identify her through conventional means.  Currently, there is no person reported missing that fits her description.
The female was about 5'2, 80 pounds and had short black hair. She was wearing blue jeans, a khaki-colored shirt, a black jacket and black and blue spider socks. A GBI forensic artist created a sketch of what she may have looked like.
Anyone who has information about a female who matches that description and has been missing or unaccounted for is urged to call the DeKalb County Medical Examiner's at 404-508-3500.