Testingfg of Ads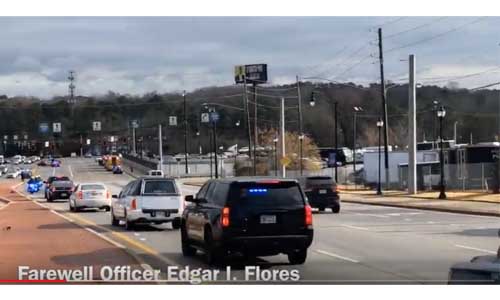 DeKalb County Police officers and other public safety personnel traveled in a more than a mile-long motorcade from the Public Safety headquarters in Tucker to All Saints Catholic Church in Dunwoody to honor fallen Officer Edgar I. Flores on Dec. 18.
A packed crowd, which included Governor-Elect Brian Kemp, attended the DeKalb memorial service. Emotions ran high and tears flowed as tributes were made saluting Flores.
Police Chief James Conroy presented Flores' family the Medal of Honor, the highest award given to an officer.
"We are a family. We've got honor guards here from as far away as Dallas, Boston. Chicago is here, and Chicago tragically lost two last night in an incident. Yet here they are to support us," Conroy said.
DeKalb CEO Michael Thurmond; Major KD Johnson, Commander of the South Precinct; and Officer Justin Hamilton, who was flanked by members of the police academy who graduated with Officer Flores.
Said Hamilton as he fought back tears in remembering his last shift with Flores:
"We said goodbye and I told you that I would see you later and we gave each other a hug. If I had known that would be the last time I would see you, I would have hugged you harder."
Officer Flores' brother, Alex Flores, also spoke during the service.
"He was an amazing brother, son, boyfriend, role model, friend and most importantly, a police officer," said Alexis Flores. "He fought for what he believed in. He fought for equality. Unfortunately in that fight, he lost his life."
Harris Blackwood presented a proclamation to the family from the Governor's office.
Officer Flores would have turned 25 years old on Dec. 17. He was engaged to be married. He had only been on the police force for a year and a half.  He died in the line of duty while working a routine traffic stop on Candler Road in South DeKalb on Dec. 13.
Officer Flores had pulled over Justin Taylor, 33. Taylor suddenly led on foot and shot the officer in the head as the officer pursued him.
A short time later, police arrived on the scene and tracked Taylor, shooting him during the pursuit. He also died.
Indi, a K-9 officer that was shot during the chase, pulled through surgery and attended Officer Flores' funeral with his handler. The crowd stood to its feet as Indie walked to Officer Flores' casket.
The funeral in DeKalb was one of two held for Officer Flores. A funeral also was held on Dec. 19 at Prince of Peace Catholic Church in Flowery Branch.